Image © Wigshop Records 2007

More E. S. Posthumus:
Luna Sans Interview and Photos (2008)
Unearthed (2001)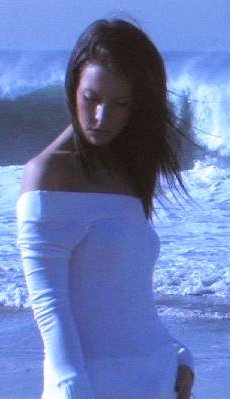 Luna Sans (lead vocals)
Image © Wigshop Records 2007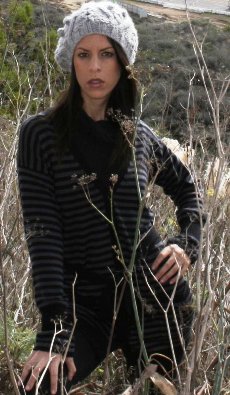 Luna Sans (lead vocals)
Image © Wigshop Records 2007



&nbsp
(10 February 2008) E.S Posthumus first announced themselves to the world of music with their earth-shattering debut Unearthed (review) in 2001. An album blending the majestic orchestral instrumentation of film scores with electronic sound waves, hypnotic drum beats and otherworldly vocal effects, creating a strikingly cinematic listening experience. It was an album filled with experimentation, of which the project allowed and indeed thrived upon, for E. S. Posthumus founders and brothers Franz and Helmut Vonlichten. Two individuals brimming with ideas of innovation and large ambition within the music they composed who were granted the use of an orchestra to weave such sounds. Sounds that captured the imagination of many and led to the release becoming the third biggest selling album in independent site C. D. Baby's history. The album's standout track "Nura" is well known as the theme for the CBS television drama Cold Case.
A lengthy seven year gap followed, with snippets of information being disclosed regarding a follow-up release, before second album Cartographer (Wigshop Records (USA) WS2237, 2007) finally saw the light of day earlier this year. A sprawling double album depicting a fictional group of explorers from the island of Numa. Inspired by the tale of an ancient map "Piri Reis" being discovered in 1929, depicting islands on the Antarctic coast concealed under ice for over 6,000 years, the concept imagines this civilization navigating the far corners of the earth and seeks to conjure imagery of their adventures, whilst telling their stories through the beauty of song. This album is expected draw significant attention from fans of Adiemus, Karl Jenkins, Praise and Miriam Stockley.
The first disc of the album features emerging vocalist Luna Sans accompanying the brothers' sweeping, breathless instrumentation as she sings the lyrics of a made up language, unique to the world E. S. Posthumus seek to take you to, and to the people existing within it. Taking the film score-esque compositions of debut Unearthed to a more refined, developed and well-honed level of maturity, the thirteen tracks on offer implement dramatic strings, angelic choir-work and stirring orchestra drums that dip and soar within Luna's fresh, spiritual vocal delivery. Luna holds a smooth, serene voice that flows freely and caresses the ears with its dreamy emotion, resting perfectly alongside the immersive instrumentation that is wonderfully mixed. Every instrument is given room to breathe and be captured within a huge production allowing each listener the freedom to be whisked away to wherever it is they wish to be taken.
Opener "Nolitus" introduces the album with a gentle, uplifting welcome as whispy flute work dances atop swaying strings, before being joined by piano and the breathy vocals of Luna. Through her voice you are taken to cloudless skies of peace and tranquillity as she glides her way through a chorus backed by vibrant drums and rising violins, breaking loose with the adventurous sound of a flute that spirals away to the distance, before Luna rejoins the mix, easing the song on its way. "Isunova" picks up the pace with a dramatic song filled with diverse, epic instrumentation that features engulfing, layered vocal work and clattering orchestra drums to create emotions of urgency, feelings of exploration and a breathless excitement. Following verses rising with dominant strings, the bridge sends this song to an explosive climax as drums grow louder, strings weave dangerously and the volume increases in intensity, before the multiple vocals of Luna return to calm and ease the restless energy of the music.
"Marunae" sets a driving pace with strings that move to and fro against powerful drums, allowing Luna to mimic the haunting emotion gifted via the orchestration. Her vocals ring with desperation. With a lost, pleading, tone that matches the sparse orchestration as it traps the listener in a blurred world of thrilling fear, perhaps isolation, that is consoled by hints of freedom, conveyed through a bridge creating a rising feeling of hope within the shifting string-work. "Mosane" instills sights and sounds of the oriental, even middle-eastern, through swirling orchestra and pounding tabla beats in a vibrant piece, whilst the later-placed "Caarano" presents Luna at her most captivating. Her voice swims through subtle piano and serenading strings in a song brimming with romantic imagery of blissful sunset-surroundings, of oceans lit up by the warmth of the stars. The listener is invited to embrace these feelings of love and hope as you lose yourself in Luna's exceptional voice. The disc closes with the soft acoustic guitar and crystal-clear drums of "Nasivern" bringing well over an hour's worth of music to a fitting close.
The second disc is entitled Piri Reis Remixes. It includes re-worked, purely instrumental, renditions of the songs featured on the first disc, with two exclusive bonus tracks. With this disc the feel is very much like that of debut Unearthed as the imaginative instrumentation is given the chance to shine. Luna's vocals are replaced by gigantic choirs, moving splashes of piano, even the distortion of a guitar, to create a majestic collection of epic pieces that find the brothers perfecting the ambitious sound they delved into on their promising debut.
The introductory "Ashielf Pi" steadily builds from electronic pulses and haunting brass orchestra to an explosion of electric guitar in a brief, gripping opener, leading into "Oraanu Pi." Again implementing the power of the crescendo which the Posthumus brothers thrive upon, it's a piece that perfectly demonstrates the capacity for exploration their music invents. Your imagination is sent skywards to lands untouched as the senses are surrounded with grandiose female choir work, the drifting notes of a flute and dramatically placed strings that wrap around the choirs, guiding this breathless piece on its way. "Isunova Pi" is without doubt a highlight, presenting one of the most exciting compositions the brothers have composed to date. A 'mini-epic' of sorts that wouldn't feel out of place as part of a big-budget move score, it flows with an awe-inspiring feel of discovery, of endless, limitless possibility as strings and choir merge with warped electronics and pounding drum beats in an irresistibly moving roller-coaster ride of emotion. Closing with fierce string movements and heart-stopping choirs that set the heart racing, it's a journey you never truly want to end.
Other tacks of note "Caarano Pi" and "Vorrina Pi" both present sweeping, captivating moods of serenity and of sublime peace through delicate waves of hushed choir and subtle strings. The former flows freely as the orchestra washes over picked acoustic guitar with a dreamy ease, whereas the latter captures the feel of solitude through soaring flute that breaks through a rich tapestry of sound. A sound carried by the freedom of a production that allows it to to reach the places the composers wish it to go, with a refreshing clarity.
In Cartographer, E.S. Posthumus have excelled themselves. Dipping their toes in the water with debut Unearthed, an album packed with ideas and experimentation, Cartographer sees them developing their unique sound to craft an album they can be truly proud of. Beautifully mixed, epic in its scope whilst encapsulating numerous emotions through the exciting blend of orchestra and voice, Cartographer is a gift to the world of music. An album to let

loose the imagination, to take you to places you never thought music you could take you, or quite simply, to move you. Essential.--Jim Hall in Derby, England and Russ Elliot in New York