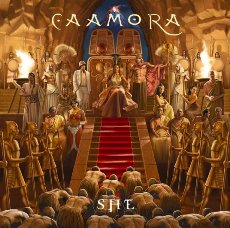 Image © MetalMind Productions 2008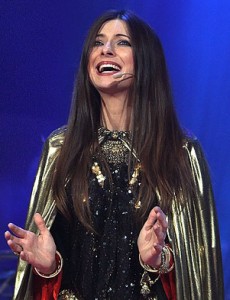 Agniszka Swita (lead vocals)
Image © MetalMind Productions 2008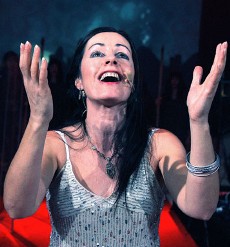 Christina Booth (lead vocals)
Image © MetalMind Productions 2008

More Caamora:
Agnieszka Swita Interview (2008)
Closer (2006)
Caamora Walk on Water (2007)
Caamora Embrace (2008)

More Clive Nolan:
From Ignorance To Ecstacy (1991)
Strangers on a Train (1997-1998)
Jabberwocky (1999)
Marked For Madness (2001)
Hound of the Baskervilles (2002)



&nbsp
(16 February 2008) She is a partnership of Clive Nolan (Arena, Strangers on a Train, Pendragon, Neo) and Agnieszka Swita in a lavish and creative collaboration. The lavish production features guest musicians Alan Reed (Pallas, Neo), Christina Booth (Magenta), John Jowitt (IQ, Neo), Mark Westwood (Neo), Martin Bowen, Richard West (Threshold), Steve Williamsn and Scott Higham. It is a rock opera that will stand the test of time. Allusions to Clive Nolan's work with Tracy Hitchings on the two Strangers on a Train albums (review) and Michele Young's Marked for Madness (review) will surely be made although the production quality of She goes orders of magnitude beyond.
The musical version of She is based on the classic novel of the same name by Victorian adventure writer H. Rider Haggard. The album follows on from Clive Nolan's Jabberwocky and Hounds of the Baskerville themed projects. He first encountered the story twenty five years ago wyhen he saw a film version at the cinema as a child. It has always been his intention to set this story to music, but it was not until he met Agnieszka that he felt the time had come to embark on the project. Our forthcoming interview with the lead singer will explore their meeting further.
With Agnieszka's encouragement, Clive decided to begin this epic composition. Over the following months, Clive furiously set to writing material, and Agnieszka traveled regularly from Poland to England to record demos. Gradually the material developed until they had over two hours of songs and music. The culimination of Caamora's work took place on 31 October 2007 at the Wyspianski Theater, Katowice, Pland. Spearheaded by Clive Nolan and Agnieszka Swita, the live production, filmed for DVD, featured the entire ensemble.
Clive and Agnieszka first met in February 2005. The gelled immediately and discussed the possibility of working together. In March, Agnieszka returned to England from Poland and recorded some material with Clive. This included what became the first song written for the project. As a result of this session, they decided to form Caamora. Over the next two years material for the She project was written and developed. For such a large-scale project, this represented a lot of music and lyrics.
The music on She is wide and varied: from the close, intimate sounds of voice and piano, through to the exhiliration and power of orchestra and choir, the music is intense and colorful. Says Clive Nolan, "For me the blending of orchestra and rock band was one of the biggest challenges. I did not want these to be two separate entities stuck together as is often the cse with 'band and orchestra' albums, but one enormous blended sound." Stylistically, She has elements of heavy rock and moments of pure opera. It is sometimes simple, somtimes complex and is a composition that will surely stand the test of time.
Says Clive Nolan, "The demo songs were recorded with Agnieszka testing out all of the vocals. This gradually helped to give us an overall picture of the opera." During this time the duo decided to take their music out on tour. The She project has always been a long-term plan, and they were eager to get out and spread the word. During the later part of 2006, Caamora, with Swita singing atop Nolan's piano playing, toured Europe to a warm reception. They then headed out to South America with some very successful gigs in Chile and Argentina.
Caamora's Closer EP (review) was released in Autumn 2006 and featured back catalogue material written by Clive, as well as some new material from the She project. The music was arranged and recorded specifically for this limited release. The success of the EP led to a series of concerts in Poland. Agnieszka Swita says, "We never expected such enthusiasm!" We hadn't prepared for three encores nearly every night."
Upon returning to England, recording began on more Caamora material continuing to develop the full album. Meanwhile demand for Caamora on tour had grown and dates were being booked for Portugal and Canada, and returning to some familiar countries. In June 2007, Caamora's second EP Walk On Water (review) was released. This EP was the first to introduce the Caamora guest lineup and included contributions from Mark Westwood on guitar, John Jowitt on bass and Scott Higham on drums.
The She album was recorded in the summer of 2007. Caamora returned in mid-January 288 with a third EP entitled Embrace the final step announcing the premiere of the epic production of She The EP is a teaser of what listeners can expect from She and Caamora provided a good quality mp3 download of the track for free for eager listeners. The special release includes four alternative versions of songs to be featured on the full-length She.
She is a natural but dramatic progression for Clive Nolan, building on all of his work to date, building on his work with Arena, Strangers on a Train, Jabberwocky and Hounds of the Baskerville. His musical signature is clearly engraved in the compositions. Agnieszka Swita's evocatively delivered vocals are especially well suited to the production. Her emotional delivery of the story works perfectly. Christina Booth's contributions in solo tracks and in bination with the other singers are simply delightful. A fantastic progressive

rock vocalist in every dimension with Magenta and Trippa, Christina is also perfectly at home in She. The album versions of "Embrace" and "Closer" are stunningly performed by Christina.

The worldwide premiere of She (MetalMind (Poland) MASSCD1116DD, 2008) is scheduled for release on 10 March 2008 in Europe and 13 May 2008 in the USA. This extensive material will be available in 2xCD, DVD (including making of as a bonus), limited edition DVD+2xCD, limited edition 2xCD DG (including bonus track), limited edition 3xLP (including bonus track) and a Box Set: 2xCD studio, 2xCD live, 2 DVD (incluuding bonus DVD with six acoustic tracks

and extra interview footage). It is rare that an album is published simultaneously in so many formats. This is not just an album, it's an event!