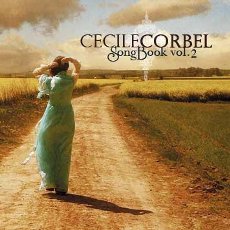 Image © Bran Music 2008
\r\ndistributed by Keltia Musique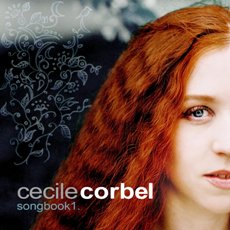 Image © Bran Music 2006
distributed by Keltia Musique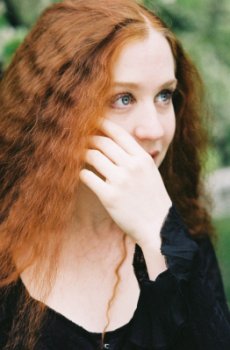 Cécile Corbel (click for MySpace)
Image © Bran Music 2006


&nbsp
(16 November 2008) A redhead fairy, just out of a Broceliande tale, completely in touch with eternal vibrations, powerful culture, and a charismatic personnality. Cécile Corbel has released her third full length album Songbook Vol. 2 (Bran Music | Keltia Musique (France) RSCD 287, 2008). The twelve track collection builds on the artist's very successful second release, an earlier twelve track album entitled Songbook Vol. 1 (Bran Music | Keltia Musique (France) RSCD 279, 2006). Corbel belongs to a new generation of European folk artists that is happy to take crusty old folk standards and reinvent them for the 21st-century audience. Congratulations go to the artist and the label for the superb packaging and booklets that accompany the individual CDs.
Cécile Corbel wrote the music and lyrics for this album and performs harp and vocals. The album's lineup also includes Simon Caby (strings, arrangements, drums, percussion, harpsichord, piano), Benjamin Boiteau (electric guitars, bass, backing vocals), Cyrille Bonneau (bombards, bagpipes, dudik, soprano sax, low whistle), Eric Zorgniotti (cello), Gilles Donage (violin and alto), John Lang (bodhran, bouzouki, low whistle), Jimmie O'Neill (vocals), Cyril Murin (folk guitar, 12-string). The lineup produces wonderfully produced modern renditions of using traditional and electronic instruments.
Cécile Corbel was born in Brittany, the Celtic region in the north-west of France. As a child, she traveled all over Brittany with her parents, who were puppeteers. She played the guitar but in ner teens her teens that she discovered the Celtic harp. At 18, she went to Paris to study archeology, still dreaming of music. Following concert after concert in Parisian pubs and cafés, she self-produced her album Songbook Vol. 1 and was soon noticed by the Keltia Musique (Sinead O'Connor, Loreena McKennitt) label.
Corbel's unique harp technique and her appealing young voice, sometimes compared to Kate Bush's, reveal a world encompassing ancient poems, original compositions, Celtic tunes and Mediterranean melodies. It is said that Cécile Corbel takes you for a trip out of a time. Following the path of prestigious musicians such as Alan Stivell, the young Breton composer and singer now performs her Celtic and world music with her musicians in France and all over the world.
Says Corbel, "Once upon a time were a gypsy with golden lips, a knight-errant, a woman in love with a dolphin, a ocean of milk, deers in garments of fog, another knight, wounded and mourned by a maiden in an orchard, a talking horse, a female pirate, a damned girl on the moor. Once upon a time was innocence." She continues, "This album is the fruit of many years spent on the roads with my harp. On stage or in a studio, Breton legends, Irish fairies, Scottish fogs, they all were my fellow travelers and a boundless source of inspiration." She concludes, "I hope you will like this album as much as I enjoyed writing and recording these songs." Cécile Corbel imposes an enchanting universe with a clever mix of traditional Irish songs and Breton tunes.
Corbel has appeared as supporting artist for many great world music musicians including Lunasa, Helen Flaherty, Ousmane Toure, Alan Stivell or the baroque harpist Ariana Savall. Corbel has also performed at various Festivals and concert halls, including La Maroquinerie, Solidays 2005, and International Harp Festival at Dinan (France). She has been warmly greeted abroad, including in Australia and Tasmania, including an Australian tour in 2006 at the French festival of Adelaide with Yann Tiersen and Matmatah and in Estonia, The Czech Republic, England, United States (Louisiana, Texas). She was the Prix Paris jeunes talents musique (Talented young musician award of Paris) in 2005.
Corbel performed all over France and in Belgium, Estonia, England, Netherlands and Germany in twelve individual concerts in June and July 2007 including the main Celtic rendezvous of the summer, including in her native Brittany. Listeners will appreciate the richness of the instrumentation, blending classic folk instruments with modern electronic additions.
Her life and image mirrors her singing, limpid, fragile, but confident. She draws her inspiration from the Breton tradition, from Breton laments and magic tales. The new tunes of Songbook Vol. 2 build wonderfully on the artists prior work. Vocals and instrumentals blend perfectly across the album's tracks never boring, inspiring repeat listening and interplay between her two albums. That texts are often in

French or Breton never detract from the lovliness of the artist's two albums. Still at the early stage of her career, Cécile Corbel has a very bright future ahead.