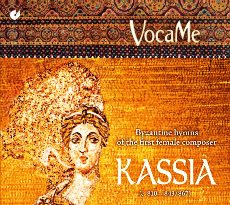 Image © Christophorus Records 2009
a label of MusiContact GmbH

.: featured female vocalsts :.
click on image to visit artist's website



Sigrid Hausen
mezzo-soprano


 

Natalia Lincoln
alto



Sabine Lutzenb'ger
soprano


 

Sarah M Newman
soprano



Elisabeth Pawelke
mezzo-soprano


 

Gerlinde Sämann
soprano


&nbsp
(27 November 2009) Kassia is not only the name of the composer (c. 810 - 843/867) but also the first recording of of eighteen Byzantine hymns from the first female composer of the Occident. VocaMe is a top-flight ensemble of renowned singers from the early music scene. They are Sigrid Hausen (mezzo-soprano), Natlia Lincoln (alto), Sabine Lutzenberger (soprano), Sarah M. Newman (soprano), Elisabeth Pawelke (mezzo-soprano) and Gerlinde Sämann (soprano). Michael Popp (Qntal) is the musical director and plays various instruments; and Johann Bengen plays santur. Read more about the ensemble at their official website.
"Women have been the occasion of much evil." Thus, in Gibbon's account, spake Emperor Theopphilos, about to hand the beautiful Kassia a golden apple as a token of his choice of bride. Without missing a beat, Kassia replied, "And surely, Sir, they have likewise been the occasion of much good," a retort that cost her the crown of Empress of the Eastern Roman Empire. The Emperor bestowed his apple on another young hopeful.
Undefeated Kassia pursued another career, founded a convent and became its abbess. There she composed humns as well as liturgical and secular verses. Just under fifty hymns are now attributed to her as well as several troparia. Kassia was a self-assured, highly educated and exceptionally gifted woman at the center of Byzantine intellectual and artistic life in the metropolis of Constantinople.
The first recording worldwide of Kassia's hymns awakens and breathes new live into their lovely and deeply moving melodies. Haunting voices and intuitive arrangements transport listeners to a long-lost age, immersing them in the mysticism of the era. This music, forgotten until today, bears living witness to a vibrand past culture. Kassia's hymns and their inspired interpretation are a true revelation.
Until now, the works of Hildegard von Bingen (1098–1179) have been considered the oldest known music by a female composer. That was until Michael Popp, connoisseur and well-known performer of medieval music, came together with an antiquarian who drew his attention to Kassia and put him in touch with Diane Touliatos, an American scholar who has been busy editing Kassia's works for some time.
Recognizing an undiscovered musical treasure in Kassia, Popp formed VocaMe, a top-flight ensemble of renowned singers from the Early Music scene: Sigrid Hausen, Natalia Lincoln, Sabine Lutzenberger, Sarah M. Newman, Elisabeth Pawelke, and Gerlinde Sämann. Popp took on the role of musical director for the ensemble and also made use of his expertise in various medieval instruments, providing occasional instrumental accompaniment.
Performed primarily a capella, the hymns are gorgeously sung and vocally arranged however they may be viewed by some as overly tedious. Kassia (Christophorus (Germany) VHR 77308, 2009) is not going to be appreciated as one of the most accessible albums this year, but the music, with its occasional instrumentation, is wonderfully produced. Vocal work is amazingly crisp and clear and recorded with care and precision.
The high quality digipak is accompanied by a superbly produced 44-page booklet with hymn descriptions in German and English. One black and white photo of the ensemble is included. See further photos and illustrations and listen to samples of the hymns at VocaMe's website or at their MySpace. Kassia is currently available from amazon.de (Germany). We will advise visitors of the album's availability in other territories when we are so informed. Several of the artists have other projects. The vocal work of this ensemble is stunning.