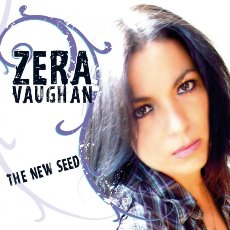 click image to visit Zera's official website
cover photo: Thierry Hurbault
\r\nimage © Media In Sync Music 2009



click image for Zera's MySpace
photo: Nelly Recchia
image © Orson Music 2008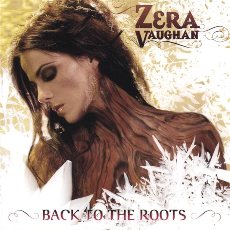 click image for Zera's MySpace
cover photo: Nelly Recchia
image © Orson Music 2008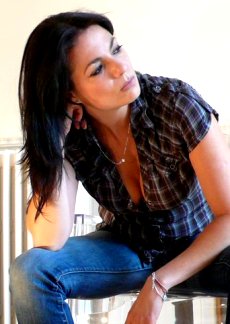 click image for Zera's MySpace
photo: Theirry Hurbault
image © Media In Sync Music 2009


&nbsp
(13 December 2009) Zera Vaughan was born to a Tunisian mother and an English father and was raised between two cultures. She studied classical and Middle Eastern music, opera and ballet, and acted in plays and musicals before she began performing American pop standards, blues, and jazz in clubs. Her evocative photos clearly illustrate her theatre and modelling background. In Hebrew the word "zera" signififies "seed." And in this spirit, as a follow-up to her debut Back To The Roots (Orson Music (USA), 8 37101 17291 2, 2006), her second album, entitled The New Seed (Media In Sync / Orson / Sledge (USA) 8 84501 19212 5, 2009), was released in August.
Studies in music at the Paris Music Conservatory and Psychology at the Sorbonne alternated with studio sessions in France. It was on holiday in London that Zera first experienced the orchestral electronic trip hop influences that would become, she says, "building blocks for the music that I had been hearing in my head." The New Seed is poetic, hypnotic and transcendent. It is a rich sonic tapestry of electronic beats and transifxing melodies. Created with the noted French producer and composer Cyril Morin with an international cast of musicians, the spacious sound is a sparkling showcase for Zera's confident vocal work.
Fronted by Zera's whispy vocals, her new album's lineup also includes Cyril Morin (guitar, percussion, keyboards), Amir Efrat (piano on "My Mind"); Alexandre Abate, Emmanual Hershin, Jeremie Naze (strings); and Sirsa Shekim (background vocals). "Cyril Totally produced the album," says Zera. "I come from classical music, so I was used to singing very loudly with a great deal of technique. Cyril didn't want me to sing that way. He asked me to say things, to interpret with simplicity, to be intimate. I got it--the vocals had to be sincere and real." Zera certainly accomplished this goal on the new recording, a dramatic step from her equally outstanding Back To The Roots record, still generally available amazon.com. The stunning penultimate song on Zera's debut album is our all-time favorite track. "The Crying Moon" spans her entire vocal range and merges into a vocalise number called "The Moon Track" that concludes the album.
Zera's debut was a global excursion. The dedication also reveals she is a proud mother of son Chayan. Both Back To The Roots and The New Seed have a world music vibe. Vaughan says, "This album is more down to earth--very simple chords, and very simple words. I wanted to express my throughts about the environment. Water and air are the most important elements in our existence. I'm afraid we've stepped aside from the main thing in live, which is respect. With my song 'Release the Chains,' all of the proceeds will benefit Greenpeace." The New Seed, like new releases from other environmentally caring artists of this era, packaged in a biodegradable case made from recycled paper and eco-friendlly ink.
Live performances are a significant part of Zera's artistry, but even with her theatrical background, she notes that her new music requires another approach altogether. She regularly performs in the Los Angeles area. "It's like when you say a poem you can't dance and move all over the place. I want to connect with my audience by watching them and sharing an emotion. But I love to be onstage--it's my little moment of showing off." Zera posed for makeup and photos for body painter Nelly Recchia to create a range of imagery to support the release of her debut album. See the stunning results of the sessions at Zera's MySpace.
The lyrics to Zera's songs usually occur to her in the night. "I can't sleep, I have to release the words and melodies. Sometimes the first draft is overly complicated, and then I simplify and polish it. If I compare it to a sculpture, it's like carving a pice of rock. That's what I am doing with the words and notes." In addition to her stunning vocal work and heartfelt songwriting, Zera is also a beautiful woman whose images have been captured by well-established photographers. Our thanks to Melissa McNeil at Costa Communications for providing high quality jpegs of Zera to include in this article.
Zera's music is best appreciated by listening to the contrast between her two albums. Her debut is sung in English and French while the twelve tracks of her follow-up is sung entirely in English. Powerful worldbeat textures grace the first one, but her latest album is more austere, but an equally well-produced singer songwriter project. Her classically-trained vocals are more evident in the first but can be heard in the second with careful listening. The diversity of the two albums--the first sung with much more power and the second song with much deeper emotion--clearly illlustrates the spectrum of Zera's talent.
Zera Vaughan has risen from a musical artist of relative obscurity to a woman that is certain to receive broad recognition in a sea of emerging female singer songwriters this decade. Surely there is more to come from this amazing world music artist. With a wide-ranging international background, theatrical experience,

stunning classically trained voice and a well-presented image, she will attract the attention she well deserves from The New Seed.