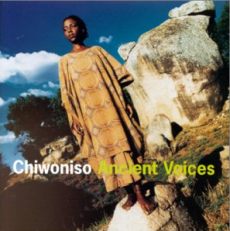 Image © 2000\r\n\r\nTinder Records
&nbsp
(03 September 2000) The debut album from Chimoniso Maraire, entitledAncient Voices (Tinder Records (USA) 42859372, 2000), originallyreleased in 1998 on the Lusafrica (France) label, is available as a domestic product for American audiences. Ten worldly tracks blend the artist's stunning crystalline lead vocals with richly producedinstrumental arrangements. Lyrics are a mixture of English and other langugages, primarily from Zimbabwe.
Chimoniso, regarded as the star of a new generation, won the RFI prize for the most promising new singer in Africa in 1998. Her album combines traditional trance-music of the mbira (tuned metal strips attached to a sound board, and plucked with the thumbs) with modern arrangements supported by the band Andy Brown & the Storm.
Ancient Voices is a blend of new age, world and more accessible popsounds and is certain to please a broad spectrum of audiences. Arrangements, while worldly at times, are equally contemporary. Chimoniso has a wonderful vocal range, resting in a spot between Maggie Reilly and Miriam Stockley, with excursions soaring into higher octaves as well. The album is rythmically oriented towards easy dance beats although far more easy listening thanMiriam Stockley and Mae McKenna's work on Shabala.
"Madame 20 Cents" combines reggae rhythms with accessible tunes while stunning soaring vocals in both English and native tongues are supported by lovely harmonies. The guitar solo during the instrumental bridge and arrangements demonstrate the prowess of the supporting band. Loversof Miriam Stockley's tribal style vocal layers or the sounds of Phil Sawyer'sBeautiful World will be enthralled with the tracks "Mai," "Nhemamusasa," "Iwai Nesu" and "Wandirasa." Contemporary jazz-oriented tracks include "Ancient Voices," "The Way Of Life," "Tamari" and "Look to the Spirit"which has a slight reggae beat and a lovely flute part. The album closes with a soft rock tune entitled "Everyone's Child" sungprimarily with acoustic guitar and mbira accompaniment. The instrumental bridge is richly produced with traditional sounds. Vocal work is sweet, evocative and crystalline and demonstrates the artist's viruousity.
You can find further reviews, hear several sound samples and order Chiwoniso's album Ancient Voices from amazon.comhere. This album balances stunning vocal work with world, new age and pop instrumental arrangements. It is easy to understand why Chiwonisowon the RFI prize for being the most promising new African singer. Hervocal work, song writing is perfectly complimented by the superb productionof this debut album. Clearly worth a cross country journey we think it isa must listen!