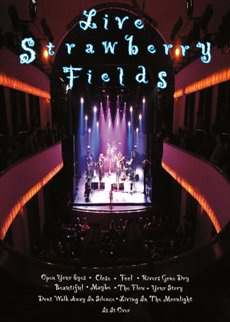 click on image for band's MySpace
\r\nimage © Metal Mind Productions 2011

More from Strawberry Fields:
Rivers Gone Dry (2009)
Robin: interview and photos (2011)
and from Travellers:
A Journey Into The Sun Within (2011)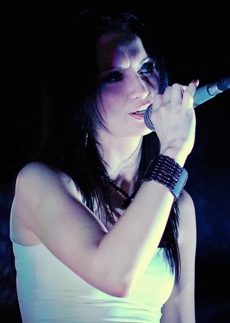 click on image for Robin's FaceBook
photo credit: Grzegorz Chorus
image © Metal Mind Productions 2012


&nbsp
(04 March 2012) Originally scheduled for release in the early autumn of 2011, after numerous setbacks the Live Strawberry Fields DVD (Metal Mind Productions (Poland) MMP DVD 0195, 2011) began distribution in February 2012. The production was recorded on 20 of April 2011, at Silesian Theatre in Katowice, Poland, were the band presented to their audience their very own, unique, subtly simple, magic and, at times, trip-hop-like brand of progressive music, crowned with Robin's mesmerizing and sensual voice. The theatre has been the choice venue for a variety of Metal Mind's recordings including Caamora's She (review).
Szadkowski and Robin were accompanied on stage by the former's fellow musicians from the band Satellite, including Sarhan Kubeisi (guitars), Jarek Michalski (bass), Krzysztof Palczewski (keys) and the band's new guitarist Micha³ Kirmuæ. Together they presented their fans with a musical feast by performing songs from Strawberry Fields' debut album Rivers Gone Dry (2009) as well as one previously unreleased song entitled "Problem."
This DVD will be appreciated by avid listeners whether they have already been or won't be able to get to a Strawberry Fields show. It's great to see the band perform in a live venue and to finally witness Robin's emotional vocal delivery in this format. Check out the band's live performance of "Rivers Gone Dry" from the DVD at YouTube here.
The band treated the audience to new versions of two memorable songs from Satellite's repertoire and a classic Collage song. The Satellite tracks include "Don't Walk Away in Silence" and "Is It Over." And the Collage song is "Living in the Moonlight." The Live Strawberry Fields DVD perfectly captures the magic of that exceptional evening.
The production quality of the DVD perfectly mirrors the band's live performance on the night. Stage lighting was done well and comes across equally fine on the DVD. The camera work, color and detail, especially in the closeups, is superb. The audio quality is also stunning. We would have appreciated less of the extremely-rapid music video-style cuts from one angle to another. This is, after all, atmospheric rock, not pop.
The concert at the Theatre was also a special event for the band themselves. Strawberry Fields' singer Robin comments: "Silesian Theatre in Katowice is a beautiful venue, magical even. The atmosphere of that place perfectly fit and contributed to the mood of that evening." She continues, "The live DVD shows a different side of Strawberry Fields than what you can find on River's Gone Dry. First and foremost, this is because we're harmonious as a band, our mutual energy keeps us going and we really enjoy playing live."
Robin says, "Most of the songs were re-arranged into live versions. It is owing to this that the band became more consistent, its character was defined better. We hope that Live Strawberry Fields will let people look at Strawberry Fields from a different perspective and that it will let them see it as a band." When asked about what it meant to her, Robin replied, "For me, the greatest pleasure was performing Satellite's and Collage's songs. I was genuinely touched. Of course, it's not the same as hearing the original versions, it's merely a substitute, but it's enough to allow for a sentimental journey back in time."
At this writing, Robin told us, "Currently we're working on our next Strawberry Fields album, but I guess it will take little bit of time." Our editorial staff hopes that Travelers will do some live performances and make a DVD as well. In addition to the live performances of tracks from Rivers Gone Dry, the previously unreleased tracks and the reworked versions of Satellite and Collage songs, the DVD also includes a variety of bonus material. Those purchasing the DVD will also enjoy interviews with Wojtek Szadkowsk and Robin (in Polish), slide show, band biography and desktop images.

The DVD is delivered in a standard package and is accompanied by a four page booklet. The DVD is available at all popular online outlets.