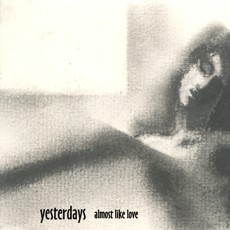 cover art by Molnár Ildikó, 2006
\r\nimage © www.yesterdays.hu \r\n2012

More Yesterdays:
Holdfénykert (Moonlit Garden) (2007)
exclusive interview and album review
Colours Caffé (2011)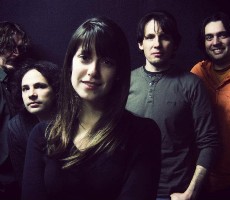 click on image for band's FaceBook
Raluca Bilațiu (lead vocals)
is now fronting Yesterdays
image © Yesterdays 2012


&nbsp
(17 March 2012) For visitors not familiar with Yesterdays, the band live in Romania as Romanians but they are ethnically Hungarians. Formed in 2000, Yesterdays plays progressive rock, a mixture of the wonderful vintage sound of the seventies and the modern sound of the progressive rock including elements from jazz and pop music.
Yesterdays have released a new five-track EP entitled Almost Like Love (Yesterdays (Romania), 2012). The new release comes on the heels of their Karaksony (Yesterdays (Romania), 2011) "Winter" EP, a five track digital download fronted by female vocalist Linda Horváth.
Several songs on the EP are fronted by Yesterdays' new lead singer Raluca Bilațiu. Raluca takes over for the band's former vocalist Linda Horváth who sang with Yesterdays on their Colours Caffé album, the band's "Winter" EP and several contributions the band made to compilations. The balance of the lineup is: Ákos Bogáti-Bokor (guitars, keyboards, vocals); Zsolt Enyedi (keyboards); Zoltán Kolumbán (bass); Domokos Csergõ (drums); Gábor Kecskeméti (flute, harpsichord); and József Szücs (drums, percussion). The revised lineup builds on the individuals' talents and the band's songwriting as well as Raluca's crystalline lead vocal work.
The 20-minute Almost Like Love includes the all-new title track, an upbeat ABBA-esque pop-styled tune. The track serves as a great introduction to the smooth and warm sounds of the band's new vocalist and layers of her self-backed harmonies. The EP also includes two progressively styled songs from the Winter EP--"Indulok-érkezel" and "Várom az ünnepeket" (Mohai Tamás cover)--gorgeously sung by Linda Horváth whose crystalline voice shimmers above backing harmonies she sings alongside other band members.
Another new track is "Torn Apart" which listeners will recognize as the upbeat progressive track "Zápor" from Colours Caffe album but sung in English with Raluca's lead vocals. Yesterdays enthusiasts will note that the new vocalist, who sings in a slightly lower register than the former, has a rich sound and more powerful style, further enhanced by the layering done in the production process. A Yesterdays cover "White Car" has also been included on this EP. The Buggles-original was performed by Yes on their Drama album. The Yesterday's version includes both male and female vocal work atop arrangements that build on the Yes original.
Yesterdays are planning to make the EP available almost exclusively as a digital download. We were told by Akos, "[Physicals will be available,] although it will be a home-made CDR copy, we'll press only 20-30 of these." So the CD will be stricktly a limited edition! Yesterdays are presently working on their next full length album and continue touring to promote Colours Caffé and their new material as well.