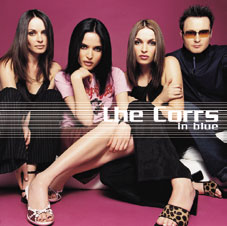 Image © 2000\r\n\r\n143 Records/Lava/Atlantic
&nbsp
(01 October 2000) The Corrs are continuing to take the world bystorm as they transform their style further away from their Irish roots intocontemporary pop culture. Their latest album In Blue (143 Records / Lava/Atlantic (UK) 7567833522, 2000) drives the band further in this direction when compared to their earlier albums Forgiven, Not Forgotten (1995), various versions of Talk On Corners (1997) and Unplugged (1999)as well as their videos Live at the Royal Albert Hall and Unplugged. The band, now recognised worldwide as a major sensation,have contributed to a broad range of other artists' work as well.
Fronted by the lead vocalist Andrea Corr (voted most beautiful woman in Ireland on several occasions), the band is also comprised of equallystunning sisters Sharon (violin, vocals) and Caroline (drums, vocals), brother Jim (keys, guitar and vocals) and supporting artists Anthony Drennan (guitars)and Keith Duffy (bass). The Corrs continue to be an exceptional live band(reviews Croyden, Portsmouth)and (unfortunately for those that like the intamcy of a smaller hall) now play extensively—if not exclusively—in the largest venues.
In Blue is a blend of hit pop singles ("Breathless,""Give Me A Reason," "Say," "Radio," "Irresistable" and "At Your Side") and others span upbeat dance oriented numbers, tender ballads, and easy listening pieces featuring Andrea Corr's lead vocals balancing them against her sisters' harmonies and the band's robust instrumental arrangements. Caroline's drumming continues to be among the best we've heard.
As one would expect of a Corrs album, vocals are mixed wayup with Andrea right up there, in your face, where Musical Discoveriesvisitors like it. Vocal harmonies and occasional violin excursions are especially notable in the easy rocking track "Sombody For Someone."Ballads are naturally dominated by Andrea's lead, but vocal harmoniesare very Wilson Phillips like they were on Forgiven, Not Forgotten.These include "All The Love In The World," "One Night," "Rain" and thevery "Queen Of Hollywood"-style "Hurt Before."
Despite a significant development in the pop direction, vocal and instrumental elements of their original sound come through in their latest album. The band's extensive whistle and violin excursions and Irish jigstyle instrumentals have almost disappeared in this latest release yet an occasional violin excursion and the stunning instrumental "Rebel Heart" that closes the album indeed reveals the band has not completely lost their Irish roots.
You can find all of The Corrs albums reasonably price at amazon.com. Soundbites are available there as well as at the label's website.Order In Bluehere, Forgiven, Not Forgottenhere, the Talk On Corners Special Editionhere, and Unpluggedhere Additional recordings by The Corrs are also available at amazon.comand are reasonably priced. Clickhere for details.
The Corrs latest album In Blue while strayingaway from the band's original roots, is an equally important recordingand further demonstration of the band's raw talent, albeit in a more populardirection. The band continue to delight their audiences worldwide with theirrecordings and live performances with tremendous talent, energy and style.This latest release, like their earlier ones, is worthy of extensive exploration, worth a trans-atlantic journey—a must listen!