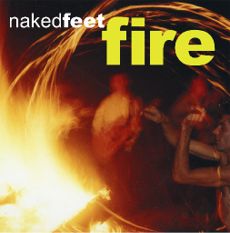 Image © Naked Feet 2002
&nbsp
(23 June 2002) In the run up to their first full length album and following in the footsteps of Oasis, Stone Roses, Supergrass and Muse, nakedfeet have released a seven track EP entitled Fire (Cornish Rock (UK) CR-CD-027, 2002) recorded at the Sawmills Studio in Fowey, Cornwall. The band is fronted by Julie Elwin (vocals, piano, accordion, whistles, guitar, hammond organ) who has written more than 80 tracks. Simon Elwin (bass, vocals), Dave Richards (guitars, vocals), Joe Westfoot (guitars, vocals) and Nina Hudson (drums, vocals, violins, congas) complete the lineup.
nakedfeet collected gold and silver awards for Cornwall in the annual Pan Celtic International Song Contest in Ireland. The band's original melodies, powerful harmonies, exceptional musicianship and lovely vocal work are said to place the band in the same broad musical space as Shakira, Travis and The Beautiful South.
Their EP opens with "tees an castel," an upbeat Celtic-oriented rocker graced with a lovely whistle and vocal part sung in Cornish. It is the story of a girl growing up and growing old in the Shadow of St. Michael's Mount near Penzance. Powerful electric guitar contrasts the traditional instruments in the arrangement. The feet tapping title track "fire!" blends rich vocal harmonies with Spanish-oriented Celtic overtones. Orchestral violins in the bridge, mixed up way over the vocals, give it a spacey texture.
Julie's powerful vocal carries the melody in "groovy," a sixties-seventies style pop song with rich electric guitars in support. Harmonies add a lovely texture. A lovely whistle part introduces "push and shove," a lush verse and chorus rock song full of further vocal harmonies. Guitars and conga support Julie's lead and the lush textures of other members' harmonies in "the day i met you," a gentle rocker certain to appeal to a broad audience.
The English language version of "tees an castel" entitled "castle clan" is especially appealing and most accessible with whistle, guitar and lead vocal contributing to the sound. We wonder if the commercial release should place this track as the first and the Cornish version in the sixth place. The EP concludes with "hungan" a lovely and haunting Cornish lullaby sung a capella. Julie's vocal style here is similar to Clannad's Máire Brennan (review).
With critical acclaim from national press coverage of their EP and live performances, nakedfeet is certain to reach great heights with the release of their forthcoming album. The dynamic sound of the band's music indicates that their live performances are equally intriguing. Click on the album cover to visit their website for further information, photos and a tour schedule. The EP is a very nice listen!