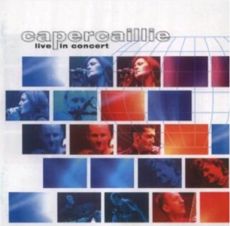 Image © Survival Records 2002



More Capercaillie Reviews:

Dusk Until Dawn
Glenfinnan
Nadurra
Capercaillie Collection [DVD]
Choice Language
Guildhall, Southampton, 1997
Fernham Hall, Fareham, 2001

TRACKS
MO CHALIN DILEAS DONN
FINLAYS
KEPPLEHALL
a. Kepplehall
b. The Osmosis Reel
NIL SI I NGRA
THE MIRACLE OF BEING
a. DE MACPHAIL'S REEL
b. CAPE BRETON SONG
THE WEASEL SET
a. Granny Hold the Candle
b. The Weasel in the Dyke
c. Macleod's Farewell
INEXILE
IAIN GHLINN CUAICH
BONAPARTE
THE ROB ROY REELS
a. The Road to Rio
b. Bulgarian Red
c. Shetland Reel
d. The Gesto Reel
e. Kiss The Maid Behind the Barrel
f. The Rob Roy Reel
COISICH A RUIN
CRIME OF PASSION
THE TREE
&nbsp
(23 June 2002) For a band that began playing strictly traditional material, Capercaillie has never been afraid of venturing into new musical terrain. Through twelve studio albums--click on the album cover to visit their website for further information--and countless "live" performances in over thirty countries, the group has continued to develop and hone their craft, adding distinctive, contemporary and progressive innovations to a traditional music-based repertoire. Their latest album (and regretably their last album on this label) is a stunning fourteen track collection entitled Live In Concert (Survival Records Ltd (UK) SURCD 027, 2002).
If sales of their studio recordings have helped carry their music to an international audience--with over one million album sales worldwide and one gold and two silver discs in the UK--it is their "live" performances that have reinforced a loyal fan base around the globe. See our two live performance reviews--links to your left--for further insight. Even with Get Out capturing some of the band's former live appeal, Live In Concert captures their latest magic and energy on CD. This album is not a backward-looking greatest hits live recording. The band continues to innovate and there is a definite new feel--a new energy and vitality to this recording--which reflects a subtle shift in the band's overall sound.
The band chose the set list very carefully, featuring several previously unreleased titles and brand new arrangements of some of their best known material, including "Coisich a Ruin," the song that charted as the UK's first Gaelic Top 40 single. Recorded by Kim Planert at the Royal Concert Hall Glasgow, January 25th 2002 front of a 2,500 sell-out audience, this album has a total playing time of approximately 73 minutes. It was mixed and mastered at Secret Music by Paul McGeechan.
The all-star line up of the band is underpinned by the brilliant rhythm bedrock of ex-Deacon Blue bass player Ewen Vernal, new recruit Che Beresford on drums and the multi-percussion talents of David 'Chimp' Robertson. This trio provides the perfect foundation for underscoring the power and delicacy of Manus Lunny's bouzouki; the fire and energy of Charlie McKerron's fiddle; the dazzling skills on pipes, flutes and whistle of BBC Radio 2 Folk Musician Of The Year Michael McGoldrick; with Donald Shaw holding it all together on keyboards and accordion.
All of this glorious instrumental virtuosity is taken to transcendental heights by the stunning crystalline vocals of Karen Matheson who has been described by Billboard magazine as "the finest Gaelic singer alive today." Sean Connery described Karen as having "a throat surely touched by the hand of God." Karen Matheson's second solo studio album Time To Fall (review), a stunning followup to her debut collection The Dreaming Sea has also just been released.
The tracks on Live In Concert represent an excellent cross section of the band's broad repertoire. Gaelic reels are effectively balanced with classic Capercaillie ballads and upbeat Celtic rockers. Standout tracks include "Coisich A Ruin," "Crime Of Passion" and "The Miracle Of Being." The live keyboard-rich arrangement of "Bonaparte" is also certain to delight. We especially appreciated the extended reels including "Dr MacPhail's Reel," "The Weasel Set" and "The Rob Roy Reels." The closing jig, "The Tree," further highlights the band's Celtic roots and progressive edges.
Capercaillie's "Live In Concert" continues to explore new territory whilst preserving the rich musical tradition that is their heritage. Click on the album cover to visit the band's website where further information and soundbites are available.

Read further reviews, listen to soundbites and order the album from amazon.com here. Clearly worth a trans-Atlantic journey, this stunning collection of live recordings by Capercaillie is a must listen!