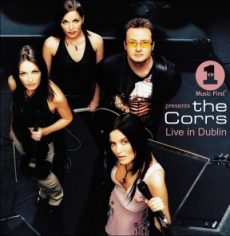 Image © Atlantic Records 2002



More Corrs
In Blue
&nbsp
(09 August 2002) It's fitting that video channel VH1 is partnered with the obscenely attractive Corrs for this live recording, captured in Dublin, near the band's hometown in Ireland. Given the stiff competition in the pop arena and the Corrs' rather limited touring, looks have doubtless played a part in their global ascent, although, judging by Live in Dublin, (Atlantic (USA) 8353302, 2002) they've earned some props along the way.
Both U2's Bono and Rolling Stones guitarist Ron Wood guest, the latter on the Corrs' cover of Jimi Hendrix's "Little Wing" (though oddly not on their reading of "Ruby Tuesday"). Neil Young's "Only Love Can Break Your Heart" rounds out the tribute triumvirate, and fans can expect surprisingly clear-eyed versions of major and lesser hits like "Breathless" and "Runaway," plus a spirited, fiddle-fueled traditional in "Joy of Life/Trout in the Bath." Andrea Corr's sensual lead vocal is supported by perfectly arranged harmonies from sisters' Caroline and Sharon.
VH1 Presents The Corrs Live In Dublin was produced by Mitchell Froom (Paul McCartney, Crowded House) - includes new renditions of the Corrs' hits, including "Runaway," "Would You Be Happier?," "So Young," "Queen of Hollywood," and of course, their US breakthrough smash, "Breathless." Steeped in the traditional folk music of their homeland, but invested with a vibrant and electric modern pop flavor, the Dundalk, Ireland-based sibling quartet have earned acclaim around the globe for their eclectic, crowd-pleasing live performances.
The production quality of this live album is superb--no sacrifices have been made--and is a perfect tribute to the incredible quality of this band.

Read further reviews, listen to soundbites and order the album from amazon.comhere. Clearly worth a trans-Atlantic journey, this album is a must listen!