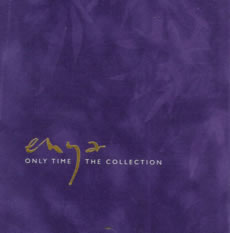 Image © Reprise Records 2002

More Enya:
A Day Without Rain
Lord Of The Rings Original Soundtrack

&nbsp
(13 March 2002) A wonderful gift, this handsomely packaged four-CD box set (purple velvet cover, gold-foil lettering) also serves as an inviting mid-career retrospective of an uncommon vocalist-sonic architect. Only Time: The Collection (Reprise (USA) 2-49211, 2002) is a mix-and-match assortment of tracks spanning Enya's first five U.S. releases (including her 1987 debut, The Celts) and embellished with a half-dozen B-sides not found on her previous U.S.-released albums. Chief among them are "May It Be" from the Lord of the Rings soundtrack(review); "Isobella," a hushed, slowly evolving beauty formerly available only in Japan; and "Oiche Chiun (Silent Night)."
The set's fourth disc is an enhanced CD that includes 1996 video footage of Enya performing "Oiche Chiun" during a BBC special. Also included is a 44-page, tall-format booklet filled with regal artist photos, song lyrics, and commentary on each track written by lyricist Roma Ryan. Some notations are throwaway items. Others are insightful, such as the unfinished lyrics (about lost love) for the instrumental title track to A Day Without Rain. The order is a jumble, usually mixing tracks from two recordings onto one disc. The stylistic difference between her dated 1987 debut and the sophistication of 1988"s Watermark makes for some occasionally jarring listening on disc one. On the other hand, the opening sequence on disc three ("After Ventus," "No Holly for Miss Quinn," "The Memory of Trees") is mesmerizing.
This collection is the first career spanning collection of Enya's work, gracing four CDs with 51 tracks. Featuring signature Enya favorites such as "Orinoco Flow," "Only Time," "Caribbean Blue," "The Celts," "Book Of Days," "The Memory Of Trees" and much more. Also includes tracks not previously available on any domestic release such as "Isobella," "Book Of Days" (Original Single Version) and "May It Be" (Single Version). 48 page booklet features liner notes by lyricist Roma Ryan, a discography and archival photos. The fourth disc is enhanced with the previously unreleased performance of "Silent Night". --amazon.com

Read further reviews, listen to soundbites and order Only Time The Collectionfrom amazon.com here.Clearly an enhancement to any dedicated fan's or newcomer's collection, this album is mostcertainly worth a journey and is a must listen!.