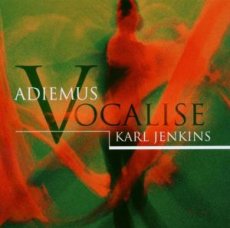 Image © EMI Classics 2003

More Vocalise Reviews
Paul Van Vliet

More Adiemus
Adiemus IV - The Eternal Knot
Adiemus Live
Adiemus Live (March 2001)


&nbsp
(14 October 2003)Karl Jenkins's Adiemus has been a very successful "project" worldwidely; already since the initial launch of Delta Airlines TV jingle and the follow-up albums there have been both albums released and concerts arranged around the world. The discussion of not being able to label or pigeonhole the genre of Karl's music can well be continued with the latest Adiemus release, but the old proverb about what the bride should be wearing at her wedding suits exceptionally well into the concept of Vocalise. Something old, something new, something borrowed, and something blue, as the thing goes. That's also the basis how I have built this review.
Let's start with things that are "old": Firstly, Karl's unique concept of mixing various musical styles and genres is still strongly present on the latest album, though in every album he has managed to develop the style even further on. On Vocalise, there are also lots of musicians that have been involved in making music with Karl for a long time, so the professionality and flexibility of them is not a new thing for the listeners. Martin Taylor, Pamela Thorby, the fabulous Finnish team of nine female singers, Mary Carewe, the strings of London Philharmonic and Nigel Hitchcock are all very skillful and are really at their very best when they are playing this music together!
Stylistically the usage of ethnic percussion is also a previously used (and great) feature of Adiemus' music, as well as Karl's stunning ability to make the music sound melodic but simultaneously exciting. The unique, invented "Adiemusnese" language and wonderful ability to orchestrate the music have also been Karl's trademarks, and on this album both are cultivated in a refined way.
But what are the new things then? The most significant change that may annoy some of the most long-standing Adiemus fans is the absence of the "magical" vocalist Miriam Stockley, but in my opinion it isn't that bad after all. Vice versa, I think that the Finnish singers who are mainly responsible for the vocal solos alongside with Belinda Sykes (track 4 only), countertenor Terrance Barber, Mary and bass voice Gavin Horsley are all now succeeded to complement each other very well! The entrance of the new musicians such as blues harmonica player Mark Feltham, the cellist Richard Harwood, the flugelhorn player Kenny Wheeler, the new vocalists as well as Karl Jenkins himself (playing all those great piano parts on the album!) has brought Adiemus into a new dimension of making music. This way, each track sounds a bit different, but still the concept retains the cohesiveness all the time and avoids becoming too versatile.
Secondly, not all compositions on this album have been made originally by Karl, whereas the originality has been the case with all previous compositions on Adiemus albums. This time, in addition to his own compositions, Karl has drawn material mainly from classical and contemporary music repertoires, and brought his Adiemus style to entirely new world by combining already composed material with his own ideas and elements as well as introducing "real" language lyrics (English, Latin, Welsh, Portuguese, Punjabi, even a German word "tänze" meaning dances) into his music in addition to the invented Adiemus "language" (used e.g. on tracks 1, 3, 6, 10 and 16) and pure title-fragment repetition (on tracks 4, 5, 9, 13 and 14). Some kind of a cross-fertilization or "hybrid music" with quite surprising new dimensions I think, so this change may also be one thing that may annoy some of the listeners. But, in my opinion every artist should have the right to experiment and develop their music with new ideas rather than just resting on laurels and make "similar" music album after another. And Karl Jenkins really seems to be a master of surprising his fans.
So, this leads to the third component of the proverb, borrowing. With his versatile choice of the pieces and composers to be versioned, Karl shows his great knowledge of music history, and this results as a fruitful combination of simultaneously inventing new things in order to not spoil the original pieces' ideas and structures. It's not a compromise at all, but indeed a result of the hard work by a skillful composer. Among the "other" composers than Karl himself are Beethoven ("Rondo" originates from Violin Concerto and "Allegrettango" from Beethoven's Symphony No. 7), Chopin ("Akruzam", or one of his mazurkas), Jaromir Weinberger (A polka from an opera "Schwanda the Bagpiper"), Schubert (one of his piano duets is now "Schubert's Dance"), Villa-Lobos (a new version of his aria from "Bachianas Brasileiras No.5"), and Rachmaninov (Vocalise Op. 34 No. 14).
Obviously classical music purists would not like these new arrangements very much, but for me re-arranging them means giving the listener a chance to hear the music in different "angles" in different light. Among Adiemus fans there may be many who have not been fans of classical music, but listening to Adiemus V may give them a totally different attitude and maybe broaden their musical tastes a little bit more. That's what I hope to happen, the listener really needs some sort of an open-mindedness to digest the new approaches.
In addition to borrowing from other composers, Karl has once again borrowed things from his own compositions which is not new at all. I don't know how much of the borrowing has happened subconsciously and how much of it is deliberately done when speaking of this new album, but most of us may recognise the piece "Bendigedig" being developed from "Good Night, House of Dewi" from Karl's recent choral-orchestral work "Dewi Sant" (having also a bit in common with Adiemus' piece "Beyond The Century"), as well as "The Protector" (which is a new, Merry-Christmas-To-The-World-style rendition of a choral piece "The Lord, Our Protector" originally made for a boy choir album featuring Tristan "Armed Man soloist" Hambleton a couple of years back).
But in addition to these there is one more Jenkins composition that has been previously recorded. This track, "Berceuse Pour Un Enfant Solitaire", deserves a special mention here, because the new version of it reminds beautifully of Karl's musical past as a jazz musician and composer. Namely, before embarking his career as a commercial music composer, Karl co-formed a jazz-rock group Nucleus in the 1970s and the original form of his composition "Lullaby For A Lonely Child" can be found from Nucleus album "We'll Talk About It Later" dating back to 1971.
This particular track then forms the "blue" part of the figurative proverb, alongside with e.g. "Akruzam", both featuring bluesy, sliding, almost jazzy (vocal) harmonics, dreamlike, highly improvised piano parts and great orchestration. I think that the usage of plenty of improvisation on both singing and orchestral parts derives from Karl's jazz-rock past as well, but here it blends very well with the original Adiemus concept. A cross-fertilisation at its best I think!
Thanks to the versatility and the brave experimenting, the album provides musical experiences for almost every taste. For example, Jaromir Weinberger's "Schwanda" polka would well be even composed by Karl himself, and the catchy "encore" track Boogie Woogie Llanoogie should make everyone's toes tap at least a bit! Karl's piano playing shows his musicianship fully, and it seems that every single one of the musicians (including Karl of course) have enjoyed themselves and had fun together making the recording!.
Some listeners would not like the breathy vocals used on many tracks, but if not taking the tightness of the vocals in the middle of "Schubert's Dance" into account, I think that Karl Jenkins has once again succeeded to make wonderful music with wonderful musicians and singers! Of course it would be even more nice to see all these songs performed live in concert (also elsewhere than in just UK, Spain and Japan!), but in the meantime I highly recommend every Jenkins/Adiemus fan (and why not others as well?) to obtain the latest Adiemus album, Adiemus V - Vocalise!
Read further reviews, listen to soundbites and orderthe album from amazon.comhere.

An album certain to interest long time Adiemus fans inits development from previous works and introduce thematerial to new listeners, further investigation is certainly worth a journey.