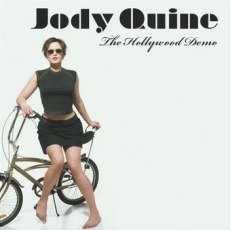 Image © Jody Quine 2003

More Jody Quine
Interview and Photos
Balligomingo Review
Star Review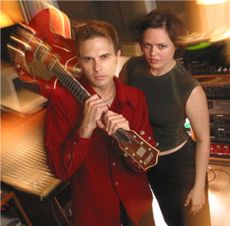 Vic Levak and Jody Quine
Image © Jody Quine 2003

&nbsp
(15 November 2003 updated 27 December 2012) When Jody Quine contacted us with news that she and producer Vic Levak had recoorded a three-track demo we couldn't wait to hear it. The Hollywood Demos recording is now available from BandCamp. Click on the image to browse Jody's website.
The three track Hollywood Demos begins with "Crazy," a delightful upbeat rock track. We asked Jody about it. She said, "The song is about me becoming successful but having left somebody behind, back home and realizing it's just not as good without him there. But instead of giving it all up, asking him to follow me, cause I miss him like crazy." She continued, "It's for the guy I'm still seeing now. I wrote it when I was in LA on a two month writing sabbatical, and I missed him. He never came to me, but I'm back home now and the friendship continues." She concluded, "I's cool to have written a song for somebody and have it be a complete recording and watch him listen to it--like an amazed child with a new toy."
The CD continues with "Hollywood," a characteristially Jody Quine-style ballad with lush arrangements. We just adore the way Jody sustains the notes. We asked her to tell us more about the song. She said, "Again, it's about being in LA for those two months, and living on Franklin a block away from Hollywood Blvd, right by Mann's Theatre. And the desperation of it all, so palpable." She says, "And for me too, knowing what I want and so badly. I was naming my need, instead of insisting I just want to make music. I call out the desire for fame, and embrace it in song." She concluded, "It's my favorite of the three."
The EP concludes with "For Bradley," an acoustic ballad with absolutley stunning vocals. While "Hollywood" might be Jody's favorite on this recording, her voice is most expressive and sensual in this track. She shared her thoughts about the song with us, "It is about a very good friend of mine who shall remain nameless. His his fiance sat up in bad one night after six weeks of engagement and told him it was over. No working it out or discussion. Over. His heart was understandably crushed." She continued, "I wrote that song for him. And now that he's moving on, he says it's a reminder of how her leaving was a good thing cause she wasn't the one." She remarked on the situation, "In my books she was no where near good enough either and was worthy of a right slap upside the head and an ass kicking to boot.It is a very sad song and I think one of the best ones I've ever written."
Jody Quine is one of our Women of Balligomingo and a singer songwriter we can't wait to hear more from. Visit her website, check out her debut album and also her work on Balligomingo's Beneath The Surface. We can't wait to hear more from her collaboration with Vic Levak.