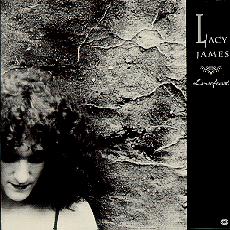 Image © 1992 \r\n\r\nMereminne Productions
&nbsp
(02 April 2000) Musical Discoveries' editorial staff regularly compare newand emerging vocal talents to Kate Bush. From Philadelphia, "A host of multicultural influences come into play in Lacy James' debut albumLovefeast (Merriminne Productions (USA) MM001, 1992). Similar in nature—but not necessarily in style—to singers like Ofra Haza, Sinead O'Connor and Enya, James' style is delicate and ethereal, with a molten core and a clear, strong delivery." Another reviewer wrote, "James includes various musical styles, mostly Middle Eastern, on the Lovefeast album, and her voice does remind us of KateBush, to whom she's been complimentarily compared." Her music is dramatic and dreaming with vocals soaring above the atmostpheric instrumentals that mix a variety of ethnic nuances into the arrangements. Like Kate Bush, Lacy James is also a professionaldancer. You can find audio samples at her official or
mp3.com website.
While not all of James' songs will elicit "soundalike" comments from KateBush enthusiasts, certainly the tracks "Foolish Heart/The AntlerCrown" and"Moon Of Fire" will do so. Soaring vocals join effective instrumental arrangements and crisp percussion to inspire the listener and delight female vocal enthusiasts. We found the title track equally inspiring with layer upon layer of vocal with effective but less thoroughly arranged sparse instrumentals. Many of the other tracks draw on world sounds ofvarious cultural origins and include the rhythmic "Silverback" and sparse"Badful Badful (The Stolen Child)." We were reminded of Julee Cruise in Lacy's track "White Lion" with itsvocal musings, light instrumentals and soft overall arrangements.
One of the most enjoyable tracks on the album is the rocking tune"Vengeance Is Mine." Here, lush instrumental arrangements accompanycrisp production and stunning soaring vocal work in a very evocative and pop rock-oriented number much like we've heard from German artists Chandeen(review). "Song Of Songs" on the other handmight be more favourably compared to the gothic-oriented sounds of Love Is Colder Than Death with vocals soaring way above sparse yet rhythmic instrumentals. "In The Garden" is performed much in the accessible style of "Vengeance Is Mine" combining many of the artist's influencesinto a highly accessible and melodic result. Soaring Kate Bush-style vocals join rich instrumental arrangements and interesting effects. The album concludes with the lovely track "O Master," most reminscent of Julee Cruise in both vocal and instrumental arrangements and certainto please ethereal female vocal enthusiasts.
You can order Lacy James' album Lovefeast at amazon.com. The music and dance of Lacy James are certainly worthfurther exploration, especially for Kate Bush and Julee Cruise fans. Soundbites available at her official and mp3.com websites provide anexcellent platform to begin the journey. Worth further exploration, her debut album contains ten well-produced tracks of varying textures certain to please discerning listeners—a very nice listen!