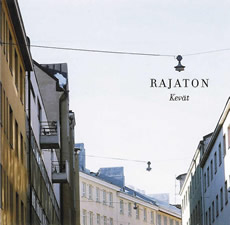 Image © Plastinka Records 2005

More Rajaton:
Nova (2000) | Boundless (2001)
Sanat (2002) | Joulu (2003)
Live at Madetoja Concert Hall (2003)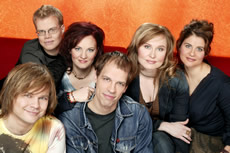 Image © Plastinka Records 2005


&nbsp
(31 May 2005) After winning the Tampere Vocal Group Contest some ten years ago, vocal ensemble Rajaton has grown to become one of Finland's flagships within the a cappella choral music, constantly touring in Finland and abroad in countries such as USA, Canada, as well as some European places, having sold-out concerts almost all the time. Not to forget the domestic success with the sales of their albums worth for gold and/or platinum discs, most lately having achieved gold status from the sales of their double album Joulu (Christmas).
Kevät (Spring) (Plastinka (Finland) PLACD017, 2005) is a fresh welcomed pearl to the "bracelet" of Rajaton's success story, showing once again how surprising, unique and refreshing vocal music can really be. Once again no instruments have been used to make the music, but still it sounds as if there would be real bass, drumbeats and other sounds backing the singers. Believe it or not, but the disc is, as always, 100% celebration of the abilities of the human voices!
Rajaton's stunning harmony and ability to use their voices so superbly have been their trademarks ever since they started to sing together, that certainly being part of their worldwide success, but the new album amazingly succeeds to provide even more new, surprising and highly interesting dimensions from how to make the group sound so marvellous! On Kevät, Rajaton has worked with a bunch of talented Finnish composers, many of those being familiar for the Finnish pop music listeners, but in addition to those, the foreign listeners of the album may recognise songs written by e.g. Mr. Teemu Brunila, the man behind the successful band "The Crash"! Rajaton members have also composed some of the tracks, though the emphasis of their worl has naturally been in arranging and performing the music, which they, of course, have done stunningly!
Stylistically speaking, the new Rajaton album cannot be described with just one or two words--if the words "stunning" and "marvellous" aren't counted--and there is no need to do so! The new album is a splendid mixture of almost anything, from the beautiful choral structures of the ballads "Kauniimpaa" (More Beautiful) and "Jos Sanot" (If You Say) to the melodious lullaby "Hopeaa Hiuksillaan" (SIlver On His/Her Hair)and to more upbeat pieces such as "folk-reggae" piece "Venelaulu" (A Boat Song) and the sweetly swinging, beguine-like single release "Kertosäkeen Nainen" (Refrain Lady). Just to name only a few elements.
Melting these various styles together in one album can sometimes make albums to sound even too diverse, like collections of different pieces without any connection with each other, but Rajaton's solutions are so cleverly made that their music does not have that risk at all! Everything happens in perfect harmony, and on "Kevät" album the listeners can hear all of the Rajaton members having lead vocals one after another. This is really something that not all vocal ensembles can do!
Although all of the album's songs are actually performed in Finnish, this is not any kind of a limitation to neither the singers nor the listeners, but instead a huge potential! Namely, the overall sound of the Kevät album is so international that it certainly will appeal to real music lovers worldwide! This means that if Rajaton's latest album would not be released outside Finland as well, it would definitely be a huge loss indeed. In the meantime one can always try to get to hear this stunning music live in concert or try to get the CD from Finland, but, seriously hope that yet another Rajaton album would be released for wider, international audience as well, just like the previous ones have been. This musical diamond is not to be missed out by any means whatsoever.--Suvi Kaikkonen in Oulu, Finland