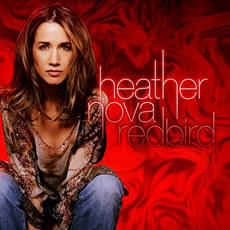 Image © V2 Records Scandinavia 2005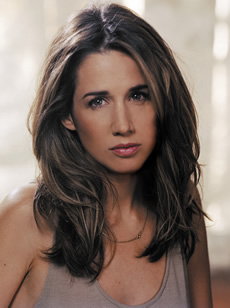 Image © Saltwater Limited 2005

More Heather Nova:
Retrospective Review/Interview Feature
Glowstars (1993) | Blow (1993)
Oyster (1994)
Live From The Milky Way (1995)
Siren (1998) | Wonderlust (2000)
South (2001) | Storm (2003)
Exclusive Interview (2003)

&nbsp
(05 September 2005) Heather Nova's last album Storm was something of a change for her. Mellow, more overtly acoustic and easier on the ear than her previous work, it polarised both critics and fans. The song-writing wasn't as strong as on Siren or Oyster, and the arrangements lacked the imagination of much of her studio work going right back to the sparseness of Glowsters. Some claim that vocally it's the best thing she's done, others fulsomely disagree. But overall, Storm lacked musical conviction. See our Heather Nova feature for reviews of the artist's catalog through Storm, an exclusive interview and further photos.
It's perfectly understandable that, periodically, artists take a musical time-out and do something different, this can stop them, allow their reputation to get jaded or it can regenerate both their enthusiasm and their muse. What we didn't know at the time was whether Storm represented just such a break or a more permanent change in direction. Heather goes a long way to answering that with the opening track from her new album Redbird (Sony BMG (Germany) 82876717092, 2005 licensed from Saltwater Ltd). The appropriately entitled "Welcome," rocks out of the blocks in much the way "London Rain" does on Siren. "Welcome" was after all a bonus track on at least the US edition of South. But as Redbird develops, we know that Heather Nova is back.
Redbird is a development in the most positive direction for Heather Nova. The upbeat rockers continue to reveal the tender soprano, almost-Annie Haslam texture, of Heather Nova's voice. Listen for standout tracks "Motherland" and the title track "Redbird" for stunning examples of the rocking Heather Nova that many of her fans adore. Catchy melodies and numerous hooks draw the listener into Heather's new album so strongly that it is impossible to let go. Indeed, V2 Sweden offerred the whole album in low bandwidth internet stream for online listening. A tremendous idea to further CD sales of this latest treasure.
The album includes several introspective singer songwriter tracks. "I Miss My Sky (Amelia Earhart's Last Days)," the bluesy "This Body," and the acoustic "Singing You Through" all highlight Heather's tenderest voice, continuing to demonstrate significant growth and development in Redbird. Light piano supports her soaring voice in "A Way To Live," and further development in the arrangements, especially percussion, support the lyrical development of the song. The album's heartfelt concluding number "The Sun Will Always Rise" is written and performed more along the line of Storm than Siren.
The shimmering guitar in "Mesmerized" perfectly underscores Heather's soaring voice. Fans recall her performance at the Lorelei in Germany, a place where sirens sang to the fisherman, where men were put into a spell and captured by the siren for life. And these mid-tempo rockers will also delight listeners. In "Done Drifting" and "Mesmerized," Heather's voice is mixed right up there atop superb production from her team. Her cover of "Wicked Game" has drawn different views from fans and critics with some thinking the track should have been omitted and others quite enjoying Heather's unique interpretation of the number. Production is undeniably superb. The rocking continues in "Overturned," thick guitar backing Heather's almost spoken vocal.
Heather Nova has returned with a stunning album that effectively draws on the experiences gained during her past n albums. She has continued to develop her craft with material encompassing the best sounds of her previous work to produce an album as close to perfection as the craft permits.

At this writing the album is only available as an import in US and UK markets. Indeed our Heather Nova is back.--Jamie Field in Hereford, England, Joseph Voncken in Heerlen, The Netherlands, Russ Elliot in New York