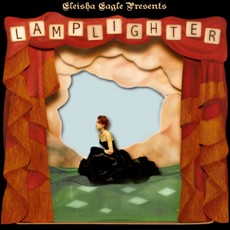 Image © Eleisha Eagle 2007

More Eleisha Eagle:
reviews and interview (2006)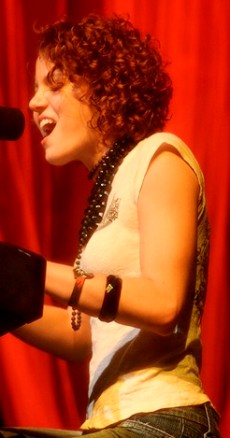 Image © Eleisha Eagle 2007

&nbsp
(06 August 2007) Eleisha Eagle attains new theatrical heights with her latest album, Lamplighter. This indie artist has produced her own Broadway-esque musical including wonderful tap dances, chorus girls and enticing melodies. She has created a delightful storyline and divided her album into two acts. The key to this album is to listen to it from beginning to end in order to absorb the intended lavish musical journey.
This wonderful singer/songwriter/pianist/tap dancer has unleashed a fourteen-track CD that blends Broadway's chi-chi and schmaltzy style with the symphonic melodies of prog rock. She is very much into musical theatre and this album is certainly a positive representation of that love. Throughout these tracks, her musical influences, which include Ben Folds, Janis Joplin, Stephen Sondheim, Elton John, Nancy Griffith, The Beatles, Fiona Apple, Tricky, and Bjork, impact her unique musical approach.
With her background of ten years of classical piano lessons, dancing five days a week and acting in local musical theatre troupes, Eleisha chose to pursue a music career only after walking away from a graphic design scholarship at Washington University in St. Louis. She followed her dreams to Nashville, Tennessee and has imprinted her unmistakable style on the music world. She enticed listeners with her debut album Private School (2005) and her six-track self-titled acoustic EP (2006). Eleisha said, "My favorite quote that sums up my style is: 'Ben Folds ate a Fiona Apple and gave birth to a show tune about a postmodern Catholic school girl.' Others have compared me to Regina Spektor, Imogen Heap, Regina Spektor and The Dresden Dolls for various reasons."
In discussing performing, Eleisha said, "The live performances are nowhere near as dramatic as I'd like them to be, but they certainly stick with you. With a background in musical theatre, I'm very interested in bringing the audience in through all forms of entertainment. I share stories, tell jokes, and encourage audience participation. Something strikes a chord with people who see my live shows, especially if they can relate to the songs."
Lamplighter begins with a wonderful overture that gives the listener a taste of what's in store. The Broadway sound comes to life and the listener can be swept away with the imagery of the lure of the greasepaint. The musical hooks in the score captivate as in the opening song, "One." Eleisha's magnificent and emotive voice tells you that she "can take you on" and without a doubt, she does. The story continues with the whimsical "Broken Shoestring." Her power and dynamic delivery create an irresistible allure.
"Oh So Sorry," with its quick tempo, fervency, and guitar-laden rock instrumentation make this song ever so memorable. The gentle vocals in "My Level" highlight the sensuality and lushness of her voice. A carnival atmosphere is evoked in "Cushions of Explanation." Eleisha's twangy rendition along with the amusing melody set the music-scape. Before the second act, a short musical intermission intercedes, allowing the listener to catch their breath and marvel at what they've just heard.
Act II begins with the tender "Avenue of Smiles." This hypnotic and enticing melody has a wonderful chorus and a definite musical hook. This memorable and vocally lush chorus makes this a delightful track. The highs and lows are certainly reached in the striking and playful "Astronaut." Crisp vocals, percussive piano and a memorable melody contribute to the strength of the song. The mischevious "Elephant Shoes" evokes a fanciful sensation, along with Eleisha's soft shoe dancing. The "sets" appear clear as day in the listener's imagination as we ride along on this fantastic adventure.
The chorus girls introduce "Little Sunbeam" and Eleisha takes over with her poignant and dynamic vocals in "Other Girls." Eleisha's powerfully delivered vocal melody makes this song another album standout along with her gentle tap dancing. "One Part Two" follows with its melancholic riffs in this sensual, moving ballad. The gentle ballad textures of the verses are contrasted with choruses that build with increasing power, richness and depth as the track crescendos towards its conclusion. The album ends with the emotive, orchestral "Lamplighter's Ballet." The listener, in essence, is "watching" the credits and absorbing the brilliance of this amazing album and the distinctive monumental musical landmark that has been achieved.
Although brief, this forty-one minute album is captivating, amusing, enticing and a must-listen. Eleisha's musical prowess is certainly evident throughout and she weaves a wonderful tapestry of musical flavors to continually whet the appetite for more. That's entertainment!--Audrey Elliot in New York