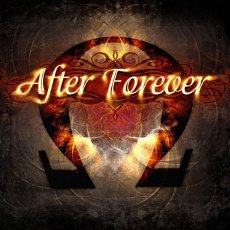 Image © Nuclear Blast 2007

More After Forever:
Prisoner of Desire (2000)
Follow in the Cry (2000)
Decipher (2001)
Emphasis (2002)
Monolith Of Doubt (2002)
Exordium (2003)
My Choice (2004)
Invisible Circles (2004)
Digital Deceit (2004)
Remagine (2005)

&nbsp
(29 May 2008) Symphonic metal six-piece After Forever hail from the Netherlands, having been in existence for a prolific 13 year period. A period which has seen numerous line-up changes, worldwide tours and four highly regarded full-length albums. Album number five arrived in April of 2007 simply entitled After Forever (Nuclear Blast (Germany) 27361 18119, 2007), a statement of intent from the band as they seek to pull from influences found in previous efforts and create something fresh whilst still retaining the key elements of the band's sound. Hoping to take their constantly progressing music to even greater levels of ambition with this pivotal 'make-or-break' release, the renowned Prague Symphonic Orchestra feature and guitarist Sander Gommans believes the album to be: "a great summation of everything we have done." The expectation then, is certainly on the high side this time around.
The initial impression of the 60-minute opus is exactly as Gommans hints, that of a melting pot of the band's style which, with this album at least, strays far away from a simple classification of 'symphonic metal'. The songwriting has stepped up a notch experimentation wise as electronic synths merge with the strings of the Prague Symphonic, against a metal backdrop of crunching riffs that feel heavier than in the past, gliding bass and some frenetic drumming courtesy of Andre Borgman. Vocally, we have the stunning and often under-appreciated Floor Jansen's soaring soprano whose delivery is more assured and confident than ever, contrasting with Gomman's plentiful death grunts that help conjure a dramatic and exciting contrast inside a tightly crafted sound.
The crackling sounds of an orchestra playing out a stirring melody announces the album in "Discord" which builds towards a fierce metal groove through chunky riffs and Floor's commanding voice battling with backing growls and accompanying strings in a highly catchy and well placed opener, before "Evoke" presents the album's more experimental edge. Pulsing trance-like electronics provide the base for a rip-roaring vocal show from Floor whose voice aggressively matches bouncy verses and a surging chorus. She calms for a piano-driven bridge before the orchestra takes over and the pulsing beats return in a highly charged effort.
The production holds strong throughout the album with the complex blend of vocals, orchestra and metal intensity given the powerful and grandiose mix it requires, none more so than on lead single and stand-out "Energize Me". A simplistic 3 minute pop-like number built on a huge, melodicious chorus and subtle keyboards featuring a rare, but fitting guitar solo. Choirs guide the urgent "Withering Time" which gives Borgman room to let loose his most aggressive drum work, whilst "Envision" finds Floor at her best with a longing chorus holding together a rich mixture of piano, orchestra and guitars, in two further album highlights. As the progressive monster "Dreamflight" arrives near the album's close, the sense of pulling out all the stops is clear with 11 minutes of emotional and musical contrasts in a fearless epic that takes time to digest, but is expertly formed and a genuinely gripping listen.
As a whole After Forever rarely lets you down and is arguably the most impressive and well-honed After Forever release yet. It takes the solid symphonic metal base they've relied on for over a decade, offers some risky yet well executed experimentation and thrives on a standout vocal performance from Floor who proves herself this time around to be right up there with the best that share her style. Enhanced by a fine production and tasteful use of the Prague Symphonic Orchestra, possibly the most pivotal album in the band's career breaks away from possible fears of a

stale, 'tried and tested' approach and instead feels fresh, passionate and packed with the energy of a band not afraid, rather inspired, to challenge themselves.--Jim Hall in Derby, England