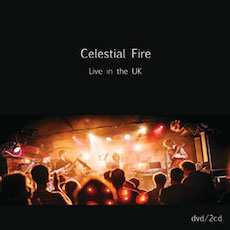 click on image for band website
\r\nimage © Open Sky Records 2017

.: more from Dave Bainbridge and Iona :.
Southampton (1997)
Woven Cord (1999)
Open Sky (2000)
The River Flows (2002)
Songs for Luca (2003)
Iona (DVD) (2003)
Rotherham Rocks (2002)
University of London (2004)
Veil of Gossamer (2004)
Iona Live in London (DVD/CD) (2006)
The Circling Hour (2007)
Another Realm (2011)
Edge of the World Live in Europe (2013)
Celestial Fire (2014) BOTY

:: Compilations ::
Songs for Luca (2003)
Songs for Luca 2 (2007)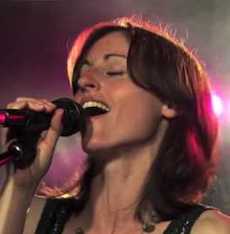 click on image for band FaceBook
Sally Minear (lead vocals)
image © Open Sky Records 2017


&nbsp
(05 May 2017) Our 2014 BOTY was the Celestial Fire album by Dave Bainbridge accompanied by a wide variety of additional musical artists. In the months that followed, Dave sought to take the project on tour and what emerged was a new band of the same name. Their first album is Celestial Fire - Live in the UK (Open Sky Records (UK) CD20, 2017), a DVD+2xCD set of their live performance at Fibbers in York, England on October 1st, 2015. Both video and sound are gorgeously produced and deliver the band's live performance to those in range of the band's tour and other enthusiasts globally.
The new band, fronted by the stunning Sally Minnear (lead vocals, acoustic guitar and percussion) features Dave Bainbridge (guitars, keyboards, bouzouki, vocals and shaker), Simon Fitzpatrick (bass guitars, chapman stick, moog bass and darbukka), Frank Van Essen (drums, percussion, violin and vocals) and Dave Brons (guitars, mandolin, vocals and shaker). Sally's vocal performance is awesome from beginning to end, faithfully delivering every lead and backing vocal part flawlessly.
Celestial Fire's live sound builds on themes of the 2014 album, faithfully integrating that original material with Iona and Yes classics. Tracks from the Celestial Fire album are enthusiastically reproduced oftentimes with Damian Wilson's lead vocal replaced with Sally's outstanding delivery. Such is the case with the studio album's title track "Celestial Fire" that opens the show to rousing applause. Tracks from that album are interspersed between Iona classics and include fantastic renditions of "Love Remains" and "In the Moment." Listeners will be amazed at how this smaller lineup delivers the sound from the studio album, including Dave Brons' version of Troy Donockley's Uillean Pipe parts on guitar.
With Dave and Frank from the original band, the album also includes a broad range of Iona classics. Sally's vocal work is every bit as strong, powerful and as wide ranging as Joanne Hogg's, yet she brings simply incredible live vocal production and drum work to the stage in addition to acoustic guitar. Her delivery of "Today," "Kells Opening Theme," and "Revelation" are a testament to her vast talent. No performance by this lineup would be complete without reels. A rocked-up version "The Storm" is enthusiastically performed by the band.
The live show is broken into two sets. It opens with a very powerful performance of Iona's "Chi-Rho," and includes "Songs of Ascent - Part 2," a fantastic rendition of "Beyond These Shores," "Brendan's Voyage" and "Brendan's Return." Simon's standout bass solo rendition of the Yes classic "Roundabout" works great in the live setting and drew significant applause from the audience. The set concludes with an amazing performance of the epic Celestial Fire track "In This Moment." Sally gives a stunning performance of the Yes classic "Soon" as the encore.
Celestial Fire - Live in the UK is a fantastic album in every respect. Not only is it a great value, but a superb introduction to an extremely talented set of musicians and a further introduction to Dave Bainbridge's original music and the completely outstanding vocal work of Sally Minnear. We can't wait to hear more from them. Check out their websites by clicking on the images here. Bravo!