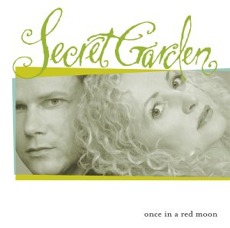 Image © Decca Records 2002
&nbsp
(14 March 2002) The Irish-Norwegian duo Secret Garden--FionnualaSherry and Rolf Lovland--won the annual Eurovision Song Contest with their piece "Nocturne" in 1995. This win provided the foundation of their musical success leading initilally to three studio albums Songs From A Secret Garden, White Stones, and Dawn Of A New Century (review) as well as a recent compilation entitled Dreamcatcher.
The latest studio album is called Once In A Red Moon (DeccaMusic (USA), 2002). The mood that has been typical for earlier Secret Garden albums has not disappeared nor become less at all, so the new album still provides the fine, soft and melodic music made with both violin and piano solos and orchestral forces. The Irish Anúna choir and the world-renowned Scottish singer Karen Matheson (Capercaillie - Best Ofreview) have been part of Secret Garden's music lately, and this brand new album makes no exception to that.
However, something new has been added to polish the album: In the very moving track "Duo" a British cellist Julian Lloyd Webber himself is dueting with Fionnuala Sherry, and that, as it is said in the CD cover booklet, makes the particular piece to flourish at its best. This new dimension suits Secret Garden's style very well indeed, so it may have been wonderful to hear Julian play on more than just that track!
Another feature very welcome is the increased amount of vocal pieces, and in this new album there are also some new singers featured. Namely, in some pieces Anúna is joined by a wonderful London Gospel Choir, and, in a piece called "You Raise Me Up", Brian Kennedy and Tracey Campbell-Nation providea wonderful duet.
Read further reviews, listen to soundbites and orderthe album from amazon.comhere. Click on the album cover to visit the official Secret Garden websitewhere you'll find photographs, journal entries and additional soundbites. Rolf Lovland has succeeded to weave such a wonderful

musical canvas, that it is impossible to pick out any of the tracks as favourites.Therefore, if you like melodic and peaceful "crossover" Celtic-edged music, this album is highly recommended!--Suvi Kaikkonen