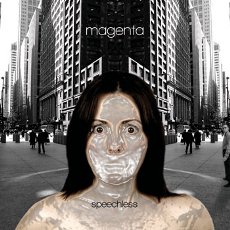 Image © Tigermoth Records 2007

More Magenta:
Revolutions Review/Interview (2002)
Ynysddu Hotel (2002-2003)
HLC, Rotherham (2003)
Seven | "Broken" (2004)
Interview | Concert Reviews (2004)
"I'm Alive" (2004)
Another Time, Another Place (2004)
Interview | Concert Reviews (2005)
The Gathering DVD (2005)
Home | New York Suite (2006)
slide shows: 1 | 2 | 3 | 4 | 5 | 6


&nbsp
(25 March 2007) "Speechless" (Tigermoth Records (UK) CDTMR1, 2007) is Magenta's first release since the successful Home album in early 2006, and marks the debut release of the band's new label.
Clearly the intention is to increase the band's profile, by releasing a slice of short, snappy contemporary pop/rock. Indeed the band have made no secret of their ambitious attempt to chart the song in the UK, and whether they manage this or not, there is little doubt that it will turn a few heads. Yet despite the accessibility of the song itself, there is a distinct link, stylistically, to past single releases like "Broken" and "I'm Alive" and those that appreciate the bands more pop-orientated efforts will certainly enjoy this.
Indeed, the song will be familiar to some, having first seen the light of day on the 2002 Progrock Records sampler credited to Trippa, Christina Booth and Rob Reed's late 90s pop outfit, and the main single edit retains the Trippa version's song structure. The difference lies mainly in the guitars from Martin Rosser and Chris Fry, which underpin the song powerfully, with Daniel Fry's bass also prominent, while Rob Reed's keyboards provide an orchestral counterpoint. The star, though, is Christina, who delivers an astonishingly mobile and soulful vocal performance, freed of the vocal restrictions which Magenta's progressive rock style can sometimes impose.
With the pop song structure raining in the band's natural versatility, Magenta fans will be very grateful for the Extended mix – a very different version, cunningly reconstructed by Rob Reed. For the first two minutes, the song in largely the same, before suddenly a screaming prog synth solo cuts through the mix, prior to a new vocal / acoustic guitar bridge. This leads the track somewhere else entirely, allowing Chris Fry a slide guitar solo, before a poised piano and lead guitar section gradually drags the piece back towards the main song. This is simply stunning, and has already lead to calls for the band to play this extended version live.
The audio tracks conclude with a beautiful new arrangement of "Anger," as played by the band in their live shows at the end of last year. The piece begins in familiar fashion, with Chris Fry's nylon string introduction combining with Christina's beautiful lead vocal, building gently with the introduction of orchestra and piano, before Martin Rosser's restrained guitar solo. Unlike the version of the song on Seven however, the piece does not end there, and Martin's solo extends, building to a key change and a further solo from Chris, and some beautifully understated synthesiser from Rob. Again, this is beautifully done, and just might now be the definitive version of the song.
The CD also contains a well-produced performance video of the single edit, which is certainly worth seeing, and as the package is likely only to

be available for a limited period, withthe extended version of Speechless likely never to appear elsewhere, we heartily recommend it.--Stephen Lambe in Cheltenham, England