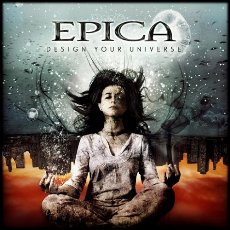 image © Nuclear Blast 2009

More Epica
.: reviews and interviews :.
The Divine Conspiracy (2008)
Consign To Oblivion (2005)
The Phantom Agony (2003)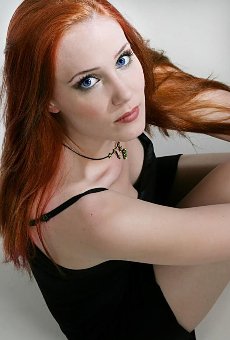 click on image for artist's MySpace
image © Nuclear Blast 2009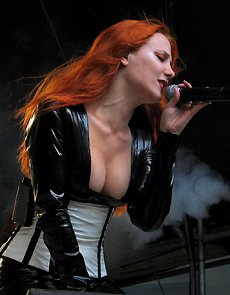 click on image for artist's MySpace
image © Nuclear Blast 2009


&nbsp
(04 October 2009) Epica has arisen to be one of the most successful Dutch progressive metal bands of the decade. Founded by Mark Jansen, formerly with After Forever, from their debut release The Phantom Agony (2003) and supporting singles, the band drew tremendous attention by combining the stunning vocal work of Simone Simons with sympnonic metal arrangements. They followed up with two albums in 2005. The first, Consign To Oblivion, continued to build the band's sound along the same vector as their debut. The second, The Score, clearly demonstrated Jansen's desire to develop a more orchestral, classically-derived, sound.
In addition to the extensive range of singles that span the band's career, a well-filmed DVD released early in their career drew attention to their live performances outside of Holland and Germany leading to tours that reached far corners of the globe. Between albums, the band released The Road To Paradiso (2006), a uniquely created sound book to their fans' delight. Promoted a with vast tour, The Divine Conspiracy (2007) carefully blended orchestral work into their repertoire. Backed with a huge orchestra and amazing choir, The Classical Conspiracy (2009), is a 2xCD set that captures both the classical and heavy rock aspects of Epica. During this period, Epica's lead vocalist Simone Simons also contributed to the Xystus recording of Equilibrio - A Rock Opera (2008). Our three interviews with the vocalist span Epica's first three albums.
Design Your Universe (Nuclear Blast (Germany, USA) NB2345, 2009) is the Epica's fifth album and is a record that bursts up boundaries and makes your breath slow down. Epica has never sounded that intensive and unique, so versatile and hymnic. Known as a perfectionist, songwriter Mark Jansen has exceeded himself and presents the most mature, heaviest and best album to date. The majestic mix of classical music, gothic and heavy metal could be the soundtrack of a fantasy epos as well. Mystical synth parts mix up with orchestral bombastic choirs and a classical set up at its best. Over the top you find the ravishing beauty and stunning vocalist Simone Simons with her operatic and dynamic voice, which enchants everybody and everything. You'll hear a wide range of her musical personalities in this recording.
Fronted by Simone Simons (vocals) and led by Mark Jansen (guitars, grunts and screams), the Epica line-up is completed by Coen Janssen (synths and piano), Yves Huts (bass), Isaac Delahaye (guitars) and Ariën van Weesenbeek (drums). Design Your Universe was produced, mixed and mastered by the legendary Sascha Paeth at The Gate Studio in Wolfsburg, Germany. Simone Simons' vocals were recorded by the longtime Epica vocal coach Amanda Somerville (review).
"This album almost killed us. We worked our asses off and went much more into detail than ever before," says Mark. With their new guitar player Isaac Dalahaye also a brisk wind came into the band and helped them to enter a new dimension. "He brought new energy, motivationand inspiration. Exactly what we needed for this album. This gave us the possibilities to develop our sound and integrate new elements", so the praising words of his mentor. "There's nothing I would like to change now. This album sucked all the energy out of us but as it's for the good course you won't hear me complaining." says Mark. It is not a concept album this time, but still a red line leads to all the tracks, who talk about freedom and liberty. "We should start listening to nature again and live in harmony with it, justlike ancient people did already. We are creating the world around us by ourselves," demonstrates the message of the album.
Design Your Universe is both musically and lyrically thematic. While Simone's vocal work dominates the sung parts, Jansen's range of grunts and screams are complimented by beautifully sung male vocal parts as well. As with The Classical Conspiracy, the album is thickly arranged with lush orchestra and choirs as well as heavy guitar and pounding percussion. A wide range of musical styles span the recording's almost 75 minutes running time. Listeners will enjoy Simone's gentle operatic ballads, her almost West End-duets with Mark Jansen and vast Cirque Du Soleil-style orchestral numbers with Latin choirs. This is an extremely complex album, which like a large meal, can not be devoured end to end in just one sitting. The 13-track album demands numerous return trips to the buffet to fully appreciate what the chef has prepared.
In October and November, Epica will tour through Europe, and in early 2010 the band will go on a ride through the USA and Canada. Meanwhile the band's followers and newcomers alike will enjoy the sounds of Design Your Universe.

We hope to catch up with Simone between tours for our fourth interview to talk further with her aoubt the range of her vocal work and Epica's best album to date.