The long-awaited followup album to Karnataka's The Storm is entitled Delicate Flame Of Desire (Immrama Records (UK) KTK CD003, 2002). Since their last studio album, the band have also released the Karnataka Live In Concert DVD (Classic Rock Legends (UK) CRL 0939, 2002) which was recorded live at London's The Mean Fiddler on 27 October 2001. Karnataka's new album includes lush studio versions of tracks performed live for the 18 months leading up to the release including several tracks performed live on the DVD. Mixed by Steve Evans and Joe Gibb at Mighty Atom Studios in Swansea, it was masterd by Nick Webb at Abbey Road Studios. The new album clearly plants Karnataka as one of the best female vocal-oriented progressive bands on the planet.
Karnataka's 30-stop UK tour to promote the album has achieved critical acclaim from audiences and media comments grow. We caught up with the band at The Brook in Southampton on 28 March 2003. In addition to our brief review, visitors will find our exclusive interview with the band below. Correspondent Stephen Lambe has seen the band several times on this tour and contributes a retrospective in his review of their show at The Limelight Club (Crewe) supporting All About Eve.
Interview
Musical Discoveries: Tell us about writing the new songs for Delicate Flame Of Desire. What was the process like?
Jon: The songs that appear on DFOD were written over quite a long period and represent the best material that we wrote in the year or so up to the recording of the album. Ian and myself wrote most of the music for DFOD with Rachel providing the vocal melodies and lyrics--although, interestingly, the two songs which perhaps represent the opposite extremes of the album "One Breath Away" and "Out Of Reach" are Jones/Jones compositions.
Ian tends to be very strong on melodies while I tend more towards chords and structures, but we also cross over a lot. Weíll finish each otherís melodies and change each otherís chords around until the musicís right or until one of us has beaten the other into submission!
All three of us are very passionate about the music and we each have our individual ideas about whatís best for the songs, so itís not always an easy process. But in the end you reach a point where the music wins and thatís the point of being in a band. Itís combining the different elements to produce something new.
Apart from the music you hear on the album, other songs and pieces were written between the release of The Storm and the recording of DFOD but didnít make it on to the album for various reasons. I guess you strive for a flow to the material and a connectedness that holds it all together while still maintaining light and shade.
In the end we thought that an hour of music was about right and we wanted every song to be strong. We wanted the album to be the best that we could do. I think that if youíre working creatively you have to give your best or thereís really no point. And thatís what weíve tried to do with DFOD.
| | | |
| --- | --- | --- |
| Image © Chris Walkden 2003 | | Image © Chris Walkden 2003 |
Ian: Writing is something that is part of an on-going process but does sometime go through more intense periods when the time allows. Jon, Rach and I have shared a long writing relationship and this means we have an appreciation of each others' strengths. We began writing soon after The Storm was released. "Strange Behaviour" was the first of the new songs to be finished.
Some songs evolve over time with different elements being added. Jon and I will often have short pieces written that eventually find a home! "Delicate Flame Of Desire" and "Heart Of Stone" in particular were songs where myself and Jon brought in ideas we had written and added to each others. "The Right Time" and "Time Stands Still" were more group collaborations where ideas came out of improvising in the rehearsal studio.
I always have an acoustic guitar ready to hand at home and whilst I mainly play bass live nearly all my writing is done on guitar. I also have a guitar rigged up with a midi pick-up with on which I can play synth stuff too. The melody of the opening track on the album was written this way, playing keys from the guitar. I have a portable mini-disc and mic for recording ideas and a dictaphone which I can use any time, any place if a melody comes to mind. If I don't record the idea quickly I'll probably forget it ! The dictaphone means I could be out walking and if I think of something I can hum it and record it.
I experimented with different guitar tunings for this album. "After The Rain" was largely written on guitar tuned to DADGAD, for "Out Of Reach" I had the guitar tuned to DGCFAC and for "One Breath Away" the guitar was tuned to EADGBD.
Rach: Like Ian and Jon said, the writing process for DFOD began after recording The Storm. The first new song to emerge was "Strange Behaviour," which was written entirely on acoustic guitar. This track came together very quickly and has retained most of its original format. Ian and myself also wrote "One Breath Away" the same way, but the song has undergone several dramatic changes of style since then!
Some of the longer tracks--particularly "Delicate Flame" and "Heart Of Stone"--were written using sections of different ideas and weaving them together to form longer, more complex pieces.
| | | |
| --- | --- | --- |
| Image © Chris Walkden 2003 | | Image © Chris Walkden 2003 |
How did the material evolve from initial writing to the arrangements we now hear on the CD?
Ian: When we recorded the first two albums the recorded versions closely reflected the live arrangements, but for this album we took a more open-minded approach to the recording process treating the songs more as Ďworks in progressí and re-evaluating everything as we went along. Steve encouraged us to take a step back and find the 'heart' of the song and we actually made some dramatic changes to some songs. "One Breath Away" is a good example of a song that changed a lot--and for the better--during the recording.
The studio is quite an inspirational place to be. The clarity of sound gives you a new perspective on the song and itís much easier to work on the layers of sound and detail. I particularly enjoyed working on string arrangements although my use of pizzicato strings was severely rationed by the rest of the band!
Jon: I guess the two main ways in which the songs evolved from the initial writing was through live performance and then through the recording process itself. We started including most of the new songs in the live set as soon as they were written and just the process of getting to know the songs by gigging them alters how they are played. You get to know which parts work well, which parts need more work and which parts just donít really work at all! Some of the longer songs changed many times from their inception to the versions which finally appeared on DFOD.
"Heart of Stone" for example, has many parts and we really felt that it had a huge potential which we just werenít fully realising. It changed through live performance many times with sections being added or changed, but it wasnít until we were in the recording studio that it finally came together. We had recorded the end section more or less as it had been played live and just became aware that it wasnít really working. After initially trying to rearrange the section we finally just scrapped the last third of the song and wrote a new end section from scratch in the studio in a day. It was difficult to give up a huge part of the song--although the section worked as a piece of music, it didnít work in the context of the song--but exhilarating when the song finally came together. An earlier version of this song with completely different middle and end sections appears on the Live In Concert DVD.
We also used the studio as an arranging tool to experiment more on this album than on either of the previous ones, which probably partly accounts for how long we took to complete the recordings!
Rach: Several of the songs on DFOD were a permanent part of our live set long before we began recording the album, so each already had its own identity and we had a fairly clear idea as to how we wanted the recorded versions to sound in terms of arrangements etc. Once in the studio, we enjoyed experimenting with new sounds, which led us to look at the songs in a different light. Some of the changes we made were inspired by the creative atmosphere in the studio.
How would you say that working with a producer, specifically Steve Evans, influenced the result?
Ian: Working with a producer brings a whole new dynamic into the recording process. You have someone who can stand back from a song and listen to where it needs to go, suggest new directions, new sounds. Steve knew our music quite well. We got to know him just after finishing The Storm and he had a strong vision for how the songs and sounds could develop. You have to be prepared to listen and take on board ideas which was strange at first and of course there are times when people have different ideas on how things should sound but it's all very creative.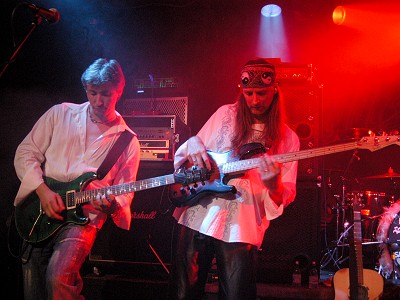 Image © Chris Walkden 2003


Jon: I think working with a producer has to influence the sound of an album, or thereís no point in having a producer! Steve was a definite influence on the sound of the album. On a purely technical level it gave us access to new sounds and textures, but probably most importantly it was a fresh pair of ears to listen to the music. Steve had strong ideas about the music and how it should sound, just as we did and that was both a source of inspiration to us and also occasionally frustrating on both sides when our ideas were out of sync with each other. It was sometimes a challenge to find a path that both the band and producer could agree on, but itís the challenges that make working on the music interesting and make the music interesting and I think that we came out of it with a great album that both Steve and ourselves are immensely proud of--and weíre still friends!
Who are the guest artists on the album and what did they contribute? Jon: The only guest artist on DFOD is Heather Findlay from Mostly Autumn. We had gotten to know Heather through joint gigs with Mostly Autumn and Heather had sung with Karnataka and Rachel with Mostly Autumn at a couple of those gigs. So when we came to record DFOD she was a natural choice to sing some harmony vocals on some of the songs.
Heather came down to the studio and sang harmonies that Rachel had written for three songs on the album--"Time Stands Still," "The Right Time" and "Heart Of Stone"--and their voices worked really well together. We were really happy with Heatherís performances; she has a lovely voice.
Tell us about the vocal arrangements and working with Anne-Marie and the other guest singers.
Rach: Recording vocals for this album was a very enjoyable process! Steve Evans has many years experience of working with female singers and knows how to get the very best from them in terms of technique and performance. I certainly learned a great deal during recording sessions about my voice and what it is capable of. Some of the discoveries were quite amazing, and will be of much benefit for both future live and studio work.
Many of the vocal arrangements were already in place at the outset of recording. We knew that we wanted to create a very 'transparent' and shimmering quality to the harmonies on this album, and also wanted to use several different voices to add texture to the overall sound. Anne-Marie has a very rich and sweet sounding voice, which adds both depth and sparkle to some of the harmonies. The choruses of "Delicate Flame" and the end section of "After The Rain" are wonderful examples of this. We both spent many enjoyable hours in the studio creating new harmonies and piecing them together. It was very hard work but great fun!
How would you characterise the album's sound?
Rach: We feel that DFOD is a great leap forward for Karnataka. The album explores all the different elements of our music in great depth. The arrangements of the songs are more thoroughly developed, and the quality of the finished production is second to none. We were determined to achieve both a lush but intimate vocal sound this time around and a powerful atmospheric feel to the songs themselves. Musically, the album has wonderful dynamics--ranging from quieter, fragile acoustic passages to moments of dramatic orchestration--both multi-layered and quite cinematic.
| | | |
| --- | --- | --- |
| Image © Chris Walkden 2003 | | Image © Chris Walkden 2003 |
Jon: I think the music has a very filmic quality to it on this album. Weíve gone for a very big open sound, which I think Steve has been invaluable in helping us achieve. The opening track "Karnataka" is like a calling card for the band on this album, building up from the opening keys to bring the whole sound of the band together as the other instruments bring their own colours to the picture.
Rachel writes in a very visual style and weíve tried to complement that by painting in sound with the music as well and I hope that comes across to the listener. We want to make imaginative music that brings out an emotional response in the listener as well as being intellectually satisfying to listen to, music for the head and the heart.
Ian: I agree with Rach and Jon, the music certainly has a cinematic quality to it and I think weíve captured the changing moods and dynamics within the themes. Rach and Steve put a lot of effort into creating the multi-layered vocals, which I suppose have become something of a trademark in the Karnataka sound. On the new album they are put to such wonderful effect. Paulís guitar tones have also evolved between albums and changing over to a PRS during recording brought an added warmth to the lead guitar parts. Working with a producer and engineer--Joe Gibb--who were sympathetic to what we were trying to achieve musically also helped to create the albumís characteristic sound.
Tell us about all the fancy equipment you used to record, mix and master the album.
Ian: The album was all recorded in 24-bit digital to a hard disc system utilising Cakewalk Sonar software as the main recording tool. The drums were recorded at Rockfield studios where we mixed The Storm. We took the drum tracks back to the producer's studio where the rest of the album was recorded. Steve works as a producer/songwriter for Warner and has his own studio. We were very fortunate indeed that Steve basically said come and do the album here!
During the recording we ran nearly everything through a stereo valve processor to add warmth to the recording--something that often benefits digital recording. Paul's guitars were recorded either miked up or sometimes direct. Paul used his PRS and Ibanez guitars and also a Fender Telecaster on "One Breath Away." Once again we ran the signal through a valve processor for added warmth. I used my Fender Jazz for almost all the bass parts except the opening track where I used a Rickenbacker 4001. My acoustic parts were played on a Takamine EN10. All the vocals were recorded at Steve's too.
The mixing/engineering was done at Mighty Atom Studios and the mastering at Abbey Road.
Jon: Thereís something about the sound of Korg synths that I really like. A lot of the sounds have a crystalline quality to them and I find them really good to play so they turn up again on DFOD. For the first time I used quite a lot of Roland modules as well. The new XV5080 module has some great pads and strings that we used as well as some really good analogue sounding lead and bass sounds. We did a lot more layering of sounds for this album than for previous ones. So, for instance, where a string arrangement was required we sometimes layered four or five different string patches from various modules--mixing string sounds that sounded really good in the lower registers with good mid and high register sounds-- and also adding multi-tracked solo cello or violin patches as well to give a really rich, lush sound. Similarly lead synth sounds were sometimes layers of DW8000 and Proteus or XV5080 sounds.
For the more technically minded the actual keys and modules used during the recording were: Korg T3 / Korg M1 / Korg Wavestation EX3 / Korg DW8000 / Korg NS5R module / E-MU Proteus 2000 module / Roland XV5080 module / Roland Juno-2 / Roland Vintage Synth M-VS1 module / Roland String Ensemble M-SE1 module / Roland JV1010 module / Roland XP10 module.
How did "One Breath Away" evolve from initial to final form?
Ian: I was experimenting with a 'dropped E' tuning on the acoustic guitar. While I was detuning top E to D, I found some interesting chords. Rach wrote the vocal melody/lyrics and the song came together very quickly in its initial form. The song was quite different to anything weíd done before and Paul added a bluesy edge to it. We only played this song live once before recording as far as I remember.
In the studio Steve approached this song from a completely different direction in terms of production. He picked up on the rhythm and suggested we make that the driving force of the song. This changed the feel of the song radically and the acoustic guitar was actually not used on the recorded version.
| | | |
| --- | --- | --- |
| Image © Chris Walkden 2003 | | Image © Chris Walkden 2003 |
The radio intro at the start came about quite by chance. Paul was recording some guitar (Telecaster) and all of a sudden we could hear this radio coming from somewhere--it turned out to be the guitar--the pickups were acting as a radio! We quickly hit the record button and we could actually tune the radio by turning the volume control on the guitar. After less than a minute we lost the signal but the bit we recorded just seemed perfect for the track.
Jon: And the fact that the voices we recorded were talking about music and how musical limitations are in people rather than in the instruments they play was so in keeping with our own musical philosophy. It was so weird and such a strange coincidence that we left it on the finished song.
Why did you decide to release DFOD on Immrama/Voiceprint?
Ian: When we finished the mastering in the summer a few people got to hear the album and felt it deserved major backing. We received a few offers from companies which would have been a sideways move for the band. We didn't think it was worth changing unless it was to something substantially different and better than our existing arrangement which affords us complete control over what we do. We are fortunate enough to have access to superb recording facilities and already have distribution through Voiceprint worldwide. Retaining this level of independance also means we only release something when it's ready and up to a standard we are satisfied with.
How would you compare the recorded version of the new material to your live sound?
Jon: While the songs on DFOD are still different in live performance the new album is certainly closer to the live sound of the band in terms of the energy and dynamics of the recording. I think with The Storm many people were surprised at the energy and intensity of our performances when they saw the band live after only hearing the CD.
With the new album the energy levels between the studio band and the live band are certainly closer--but a live Karnataka gig is still a whole different thing!
The addition of Anne-Marie Helder has also helped transform the live band. Anne-Marie became a full member of Karnataka during the recording of DFOD and the chemistry between her and Rachel onstage and the blend of their vocal harmonies has certainly raised the bandís live performances to another level. Their voices are very different to each other and I think that is why it works so well and adds another dimension to the band. Itís certainly helped us to get closer to the complexities of the album when we perform--the forthcoming DVD of the 6-piece band filmed at the US Classic Rock Festival will Iím sure show just how much the band has progressed in the last year.
What are your hopes and dreams for the future?
Ian: We've already started writing again and have some new songs finished or in development. We are also considering the possibility of recording a live album at some point. The band now has representation--Flick Productions--and weíre looking forward to working with them. Already they have arranged an extensive UK tour. We'd like to tour in new countries and hopefully this will happen soon too. We all had an amazing time in the US and would love to return to play at some point.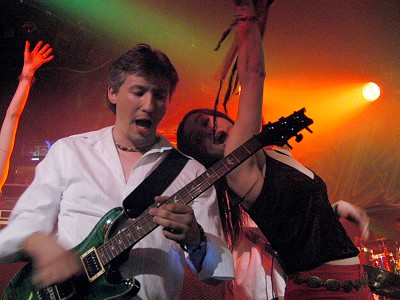 Image © Chris Walkden 2003


Jon: As always our big dream is to be able to make and play our music full-time. Playing in the US was a real highpoint for us so far, both at the US Classic Rock Festival and also the Manhattan gig with October Project. The audiences were so appreciative and interested in the music. We would really love to go back to the US and play there again. It was really great to meet the October Project folks and we really enjoyed performing the joint acoustic gig with them. They are a great band and lovely people--and believe me that doesnít always go together--it would be good to play a joint electric gig with them sometime and renew the relationship.
For the future, coming up with a better album than DFOD is going to be a challenge, but weíll rise to it!
Rach: Following the release of the album, we have already lined up a fairly extensive run of live dates for 2003. We are really excited about getting out and taking the music to as many new audiences as we possibly can next year, and to experience as many new things as we can possibly fit into our schedule! We had a fantastic time in the USA during our trip this year to New York and New Jersey. Our combined un-plugged gig with October Project was extremely enjoyable and a great success. This is something we are determined to make happen again in the very near future.
Southampton Review
Karnataka resumed their tour after a three-day break with a long, two-set performance at The Brook, an established music club in Southampton, on 28 March 2003. The tour opened earlier in the month and gathered signficant momentum in northern England with nine dates in only ten days. A good crowd of established fans and newcomers alike filled the venue. Both at-the-door and pre-sales demonstrated the band's growing popularity.
The band elected to try an all new set arrangement on the night in addition to treating their audience to some all-time firsts. Karnataka's first set was comprised almost exclusively of their most well-known live material from their Karnataka and The Storm albums. An advantage of the band's touring with gigs scheduled night after night was immediately observed in the tightness of the performances. The band were in extremely fine form fronted by lead vocalist Rachel Jones and supported by Paul Davies (guitars), Ian Jones (acoustic guitar, bass), Anne-Marie Helder (backing vocals, flute), Jonathan Edwards (keyboards) and Gavin Griffiths (drums).
High spots of the first set were clearly the live arrangement of "The Journey" with bass part played by Jonathan on keys, the first acoustic performance of the emerging favourite "The Donut Song" led by Anne-Marie and an all-new track entitled "These Dreams Are Over." The playful and evocative interplay between Rachel and Anne-Marie Helder and Paul at times has been well honed into an incredibly sharp stage performance.
| | | |
| --- | --- | --- |
| Image © Chris Walkden 2003 | | Image © Chris Walkden 2003 |
After a short break, the band returned to the stage and they played the entire Delicate Flame Of Desire album live. Rehearsals and prior gigs contributed to an extremely powerful reproduction of the lush material from the band's latest album. Band members continued to work playfully demonstrating an improvement in their stagecraft. The first live performance of the new arrangement of "One Breath Away" showed the band at their funkiest and Paul on his new Fender Telecaster. Introductions and solo excursions during "Heart Of Stone" concluded the set, however the band returned for a glorious encore of "Out Of Reach."
This tour is clearly demonstrating Karnataka in their best light; the constant gigging has tightened up the band's live performance. As their confidence grows they are taking more risk in the show and the the audiences' positive reactions are certainly providing the band their just rewards.
With just over one third of the tour completed as this review goes to press, there are still plenty of opportunities to catch Karnataka on stage; a number of performances supporting All About Eve are forthcoming. Further dates this summer include the band-sponsored 2003 festival and a potential date in mid-July with October Project that mustn't be missed. Karnataka are certainly outstanding on stage--catch a date during this tour.
Crewe Review
Watching Karnatakaís wonderful hour-long support set at Crewe in support of All About Eve, it occurred to me how far the band have come in the eighteen months since I first saw them. First of all the now well established addition of Ann-Marie Helder, as well as adding to the glamour factor, has provided an energetic foil for Rachel Jones, making the band a far more dynamic proposition. Her delightful vocals and increasingly confident flute playing have added considerable depth to the arrangements. Take, for instance the live version of "After the Rain" where her flute line at the start of the song, played in unison with the guitar, makes the opening to the song spine tingling. She then swaps effortlessly between flute and vocals, before her short mid-song lead vocal, and her lead contribution at the end of the song. Mixed down low on CD, itís still one of my favourite moments. Live, itís breathtaking.
| | | |
| --- | --- | --- |
| Image © Chris Walkden 2003 | | Image © Chris Walkden 2003 |
Rachel Jones seems bursting with confidence (and her usual risquť sense of humour), while Jonathan Edwards continues to lay down his inventive keyboard textures (and once in a while an effective solo). Ian Jones and Gavin John Griffiths get called "solid" a little too often, really. They are actually both very mobile players, with excellent technical ability. Star of the new CD, and the recent live gigs, is Paul Davies, churning out line after line of engrossing, melodic guitar--not to mention some bold backing vocals. An improvement in equipment has given his playing much greater clarity, both live and on CD and the band.
Itís hard to see how the band can get any better--but I suspect that they will surprise us once again! <! do not remove these lines>
---
Return to website contents
---