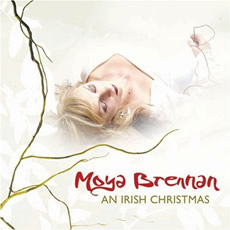 Image © Sparrow Records 2006
American Release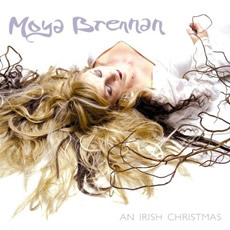 Image © BEO Records 2005
Irish Release

More Moya Brennan
Signature (2006)
Two Horizons (2003) w/interview
In A Lifetime (2003)
A Magical Gathering (2002)
New Irish Hymns (2001)
Whisper To The Wild Water (1999)
Live in Alexandria, VA (1999)


&nbsp
(25 November 2006) These days almost every artist in the music business--may it be Pavarotti or Mariah Carey for example--tend to release at least one Christmas album during their careers. Sadly, many of these albums are often made in a hurry, without too much thinking what kind of material the albums will contain. This then creates often cheap-sounding results that lack both quality and cohesion.
Luckily, there are also Christmas albums that do not fall into that category, one of them being An Irish Christmas (BEO Records (Ireland), Sparrow Records USA) FIERCD19, 2006) by the First Lady of Celtic Music, Moya Brennan. Although most of the chosen pieces are familiar for most of the listeners as songs, Moya and her team have succeeded to find great, new dimensions from the Christmas classics. The arrangements have been made with great style, so that the original moods of the songs have not been disturbed nor buried under the re-arrangements, but only enriched instead.
On the album there are carols for almost every mood and every taste; from beautifully lilting "Deck The Halls" and "Joy To The World" to the more meditative pieces such as "Gabriel's Message" and the breathtaking "In The Bleak Midwinter". Not forgetting, of course, Oíche Chiúin, the Gaelic version of the world-renowned song "Silent Night". Many might know that Moya's sister Eithne (known in the music business as Enya) made her own version of this song already some time ago, but Moya's rendition should never be considered as a "rival" for neither Enya's version nor any other versions of this song.
Although there are both jolly and peaceful carols in the album, it doesn't make it sound overly diverse. Moya and her team have done a great job of choosing material from almost endless cornucopia of various Christmas songs, as each and every one of the chosen songs suits to Moya's voice extremely well. An Irish Christmas manages to touch the hearts of both those hardcore fans who already are familiar with her music as well as those for whom Moya is only a recent discovery. The American 2006 album release differs from the 2005 Irish/Rest Of The World release in two tracks. "I Still Believe" is replaced by "What Child Is This" and "Love Came Down at Christmas" is replaced by "Angels We Have Heard On High." We certainly think that Moya's An Irish Christmas is

by a million miles one of the best seasonal albums made for several years!--Suvi Kaikkonen in Oulo, Finland and Russ Elliot in New York